Chinese students have enjoyed a good reputation for their performance in math and science compared with their Western counterparts.
This, however, was not the case at the recent competition for Rhodes Scholarships - the world's most prestigious award for postgraduates and Ph. D. students outside the United Kingdom.
The first four Chinese winners ever were Ren Naying, Gong Chenzhuo, Zhang Wanyu and Zhang Chunying. One of the most obvious common points between them is that they all major in social sciences.
Rhodes Trust China, which provides the scholarships with a number of other benefactors, said in a statement to China Daily that the selection does not give any preference to candidates' majors, but judges the "strong willingness, enthusiasm and more crucially, the idealism" of the students.
"The selection of Rhodes scholars should not be limited to arguing whether they study arts or science," the Rhodes Trust China Chairman Tang Meijie said in a statement. "I reckon it should be really about whether they can remember what they were fighting for in the first place, not just to themselves, but to the entire world."
"All 16 candidates in the final round are outstanding and I am not surprised about it at all. What makes these four more qualified is they actually believe this world will become a better place," she said.
In terms of changing the world, Liu Haonan, a physics student at the University of Richmond in Virginia, US, who was among the 16 Chinese candidates competing for the final round of Rhodes Scholarships, believes hard work in the lab generates less social impact.
"I have been committed to physics research. But physics breakthroughs made by an undergraduate student like me will not have much effect on the general public, despite the fact that I tried to enrich myself by participating in more academic conferences and publishing more papers," he said.
"I reckon the reason that Rhodes didn't choose me was because they put more value in a candidate's leadership and influence while helping the disadvantaged, in which aspects the four winners are doing a better job," he said.
"Although physics does seem a bit distant from reality, that does not mean what I am doing is irrelevant. It is actually studying the foundation of this world."
In recent years, traditional majors such as commerce, engineering and IT have no longer been dominating the market among Chinese overseas students, as an increasing number of students are more willing to choose subjects like arts, design and international relations.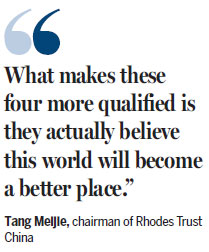 Chen Yu, an education consultant in Shanghai, said around 50 percent of Chinese students nowadays pick majors such as arts, communications and business.
"Chinese science students have long been very competitive in mathematics, while the arts students are relatively more creative and critical when they put their thoughts toward social issues," she said.
Ren, one of this year's Rhodes Scholars, has been working as a volunteer at the Beijing LGBT Center for more than two years. She has also been enthusiastic in pushing forward gender equality in China.
"Gender equality is an issue that could cover many aspects of society and you can conduct your research in subjects like economics, humanities, social science and basically every other," Ren said.
"Although I've been putting much effort into trying to accomplish that through different paths, my ultimate object remains unchanged, which I believe is what makes me more qualified than the other 12," she said.
Sun Yuan contributed to this story.