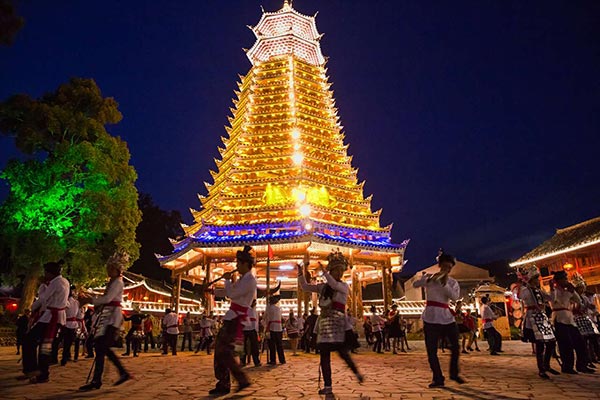 Dong people dance in the front of their drum tower in a village at the foot of Mount Fanjing in Jiangkou county, Southwest China's Guizhou province. [File photo provided to chinadaily.com.cn]
On the afternoon of the last day of Chinese New Year, which this year falls on Feb 7, Yang Yuanju and her family make offerings to their ancestors at the 19-storey pagoda-shaped drum tower in the center of their village.
As a symbol of ethnic Dong nationality culture, drum towers, or gulou, can be found in every Dong village, be it home to dozens or hundreds of households, and are often the most magnificent landmarks, overlooking all other houses even though people don't live in them
Nobody can tell when the first gulou was built because the Dong don't have written records, but legend says wherever there is Dong village there is a gulou, originally a building to place drums that were struck by the village chief to call together people when there were threats of invasion or important issues to discuss.