When rock star and entertainer David Bowie died on Sunday, the UK press went into overdrive, with front pages and television dominated by the news, probably the most coverage given to the death of a musician since former Beatle John Lennon was shot dead in New York in 1980.
Bowie's demise from cancer two days after his 69th birthday even made the front page of the Financial Times, the austere UK daily which normally focuses on business, economics and politics.
Why?
Well, the answer to the question about the front page of the FT is fairly straightforward, and reveals yet another side of the entertainer's multifaceted personality.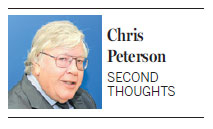 In 1997, Bowie sold $55 million in so-called Bowie Bonds, securities backed by current and future revenue from the 25 albums he had recorded up until 1990. Investors received interest of 7.9 percent for the 10-year bond, which allowed Bowie to borrow more money up front to finance his various projects.
The bond worked because Bowie had retained the relevant rights. But the traditional copyright laws suffered a major hit in the last decade with the rise in online music sharing.
Still, Bowie had, as ever, been innovative and at the forefront of change.
Which was the way he lived his life, and why millions, including me, followed his chameleon-like ability to change his persona whilst still producing brilliant music.
Don't get me wrong - I didn't copy his style, as thousands did, of wearing gender-bending clothing, sporting garish makeup and a bewildering array of hair styles. As if.
Young journalists trying to make their way in the world simply didn't do that in the 1960s and 1970s.
But we did buy into the music, which became part of the soundtrack of my life as I worked in Vietnam, Singapore, Hong Kong, Paris and London.
Bowie was always there, whether it was as the androgynous Ziggy Stardust, the cool, immaculately dressed White Duke, the rock and roller or the mime artist in traditional Pierrot costume.
Even as I write this, the words to his various hits are running through my mind. He had that kind of effect on you.
Bowie once said in a rare interview that at 49, he was surprised and shocked to find that he wasn't 20 anymore. It was, he said, new territory.
He did give a series of concerts in Hong Kong in 2004, which were a sellout. Local youngsters couldn't get enough of the cool dude in the white suit - Bowie was going through what he called his White Duke stage at the time.
I don't think Bowie ever made it to the Chinese mainland, but he does have a link.
From 1982 to 1992, he had a secret Sydney waterfront apartment, which he used as a hideaway and visited for up to a month at a time.
During one visit, he met a 23-year-old ethnic Chinese model, Geeling Ng, who became a dancer in his stage shows, and with whom he had a yearlong affair.
That affair gave rise to one of his biggest hits, China Girl, and videos show Bowie and the girl in various intimate poses.
So David, thanks so much for the music, the variety and the entertainment. RIP.
Contact the writer at chris@mail.chinadailyuk.com
(China Daily 01/14/2016 page2)