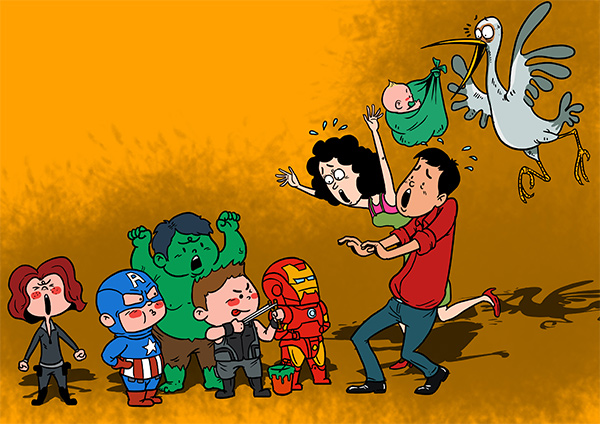 By Li Feng/China Daily.
A group of fourth-graders at an elementary school in East China's Qingdao city formed an "anti-siblings alliance" in an effort to persuade their parents not to have a second child.
Qingdao-based Peninsula Metropolis Daily reported that a teacher, surnamed Wang, found eight of her students were holding secretive meetings to discuss the issue. The students feared any siblings would steal their parents' exclusive love, Wang said.
The story became a sensation on the Internet and WeChat, China's popular mobile social media platform, arousing a feisty discussion about China's decision to abandon its decades-long one-child policy on Jan 1.
Many netizens said children born after 2000 are too selfish, as even those who agree to have a sibling often turn grumpy after a second child is born, while others suggested the problem lies in education.
Wang Donghui, commenting online, said her fellow parents should stop teasing their misbehaving children about having a second child as punishment.
"If you stop joking about how having a second child is a bad thing for them and teach them about the fun of having siblings as companions, they would be happy to accept the idea," she wrote.
The change in China's policy is intended to help balance its population and address the challenge of an aging citizenry, according to a communiqué issued after the Fifth Plenary Session of the 18th Communist Party of China Central Committee in October.
Many parents are anxious about whether to take advantage of the policy. Apart from fearing their children's opposition, many parents are wary about meeting the financial requirements for a second child in areas such as housing and education.
Zhang Xiaohui, 33, a mother from Qingdao, said the cost of formula and post-school education programs would be too high. "For a working class family, one child is OK, but raising two is a different story and my husband and I decided to give up at last," she said.
Many grandparents, however, remain enthusiastic about the policy and would be thrilled to provide support to children having a second baby.
Lin Dajun, a 67-year-old retiree living in Jinan, said he and his wife moved to their daughter's house to help care for their two grandchildren.
"As we are old, we don't have many consumer needs, and we share some of our pension to support the big family," he said. "The joy and fun of having them all together is more valuable."