Officials taking measures to address shortage of storage facilities for record amount of grain
China's combined grain reserve stands at a historic high, and the country will further increase its storage capacity this year to absorb the mounting stockpile, a senior government official said on Friday.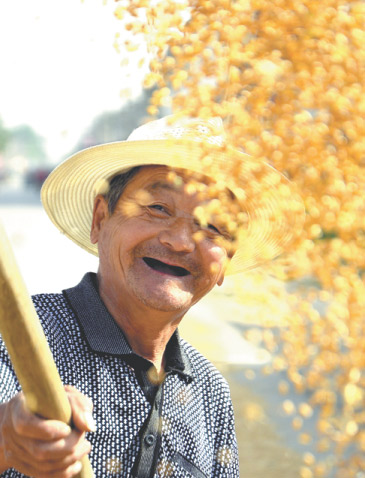 A farmer sunbakes his wheat harvest in Liaocheng, Shandong province.  [Photo/China Daily]
Ren Zhengxiao, head of the State Administration of Grain, told an annual grain circulation work conference in Beijing that the authority will take steps this year to increase the country's grain storage capacity, by encouraging more private warehouses to participate.
The storage expansion is aimed at protecting farmers' interests amid a saturated domestic grain market, he said. The national grain reserve is at its highest point in the country's history, and China's grain production has increased annually for 12 consecutive years.
China Business News reported that the combined grain reserve stands at 230 million metric tons, the largest such reserve in the world.
Ren said that about 42 percent is corn, and in major corn production areas such as Heilongjiang province, it is as high as 50 percent. The corn stockpile is expected to reach 200 million metric tons by April, the amount the nation consumes in a year, Reuters reported.
Xu Shaoshi, head of the National Development and Reform Commission, said at the work conference that China's grain prices face increasing downward pressure and there is less and less room for the national grain purchase and storage policies to stabilize the grain market and protect farmers' interests.
"We need to stick to the market-oriented path, to ensure that the market has the decisive say on agricultural product prices and on the government protecting farmers' interests," he said.
Meanwhile, the development of grain storage facilities still lags behind the growth of the reserves, he said. And the high price difference between domestic and imported grain works against domestic grain sales.
On the international market, wheat cost 771 yuan ($117) less per ton than domestic products by the end of last year, and rice and corn cost respectively 745 and 790 yuan less than domestic produce, he noted.
Although China has taken measures to limit the amount of imported major grains, many domestic producers have been increasing their imports of corn substitutes, such as barley, sorghum and distillers' grain.
Ren said that the administration will push forward the exports of more processed grain products and allow more grain storage facilities, equipment and technologies to compete on international markets.