In the past year, China has been playing a unique and constructive role in calling for Syria peace talks, lifting sanctions on Iran, as well as pushing for peaceful dialogue and reconciliation in South Sudan and Afghanistan.
More aid from China set for Syria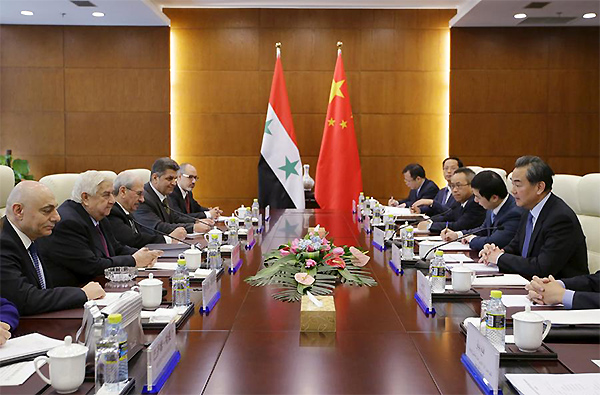 Syrian Foreign Minister Walid al-Moualem (2nd L) attends a meeting with China's Foreign Minister Wang Yi (R) in Beijing, China, December 24, 2015. [Photo/Agencies]


China's major proposals and stances on Syria are ceasefire and cessation of violence, political reconciliation, intensified counter-terrorism efforts and post-war reconstruction.

Chinese Foreign Minister Wang Yi announced at a joint media briefing with visiting Syrian Foreign Minister Walid al-Moallem on Dec 24 that China would extend an additional 40 million yuan ($6.18 million) in humanitarian aid to Syria.

Different from some other countries, China is able to maintain good communication with both the Syrian government and the opposition groups.

China has said it would soon invite members of the Syrian government and opposition to visit as Beijing looks for ways to help with the peace process.