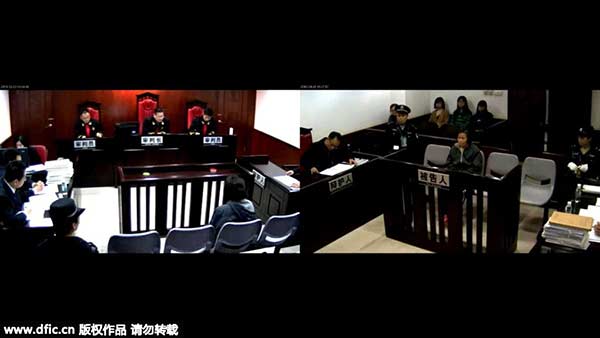 Screenshot of the trial. [Photo/IC]
The high-profile case of a caregiver accused of killing an elderly woman in Guangdong province has exposed a management lapse in the senior care market, according to experts.
He Tiandai, 45, admitted killing a 70-year-old woman she was taking care of by placing sleeping pills and chemicals in her soup.
At a trial that started last week in Guangzhou, the capital of Guangdong, He said she killed her employer because she wanted to get her monthly pay in advance.
She said the employer's daughter-in-law, surnamed Liang, had promised to pay her monthly salary even if the elderly woman died before the end of a month.
The caregiver also claimed to have killed another nine elderly people between June 2013 and December last year while looking after them separately. But she was not charged by prosecutors due to a lack of evidence.
Guangzhou Intermediate People's Court heard the case on Wednesday and has yet to give a verdict.
Zhang Yiri, an associate professor of law at Guangzhou City Polytechnic, said the case indicates a lack of government supervision and management of agencies handling caregivers.
"Many agencies hire them without any background checks. All they ask for is identity cards before they recommend them to local households," Zhang said.
Ma Xiaoyan, a lawyer at the Guangdong Code Law Firm, said companies recruiting caregivers should check the backgrounds of potential hires and their employment records.
Ma urged such companies to work with public security departments and send information on caregivers to police for regular checks.