BEIJING - The Supreme People's Procuratorate (SPP) on Saturday announced that it would investigate the landslide in south China's Shenzhen for suspected malpractice crimes involved.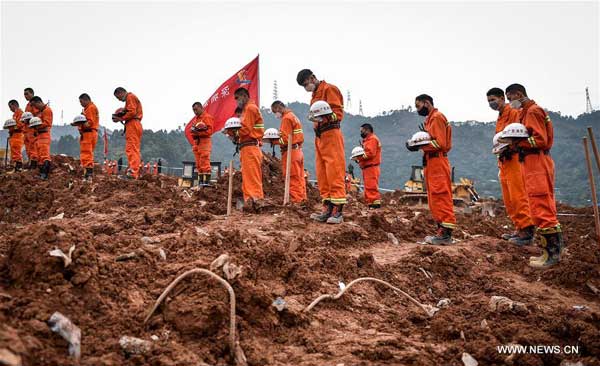 Rescuers mourn for the victims at the landslide site at an industrial park in Shenzhen, south China's Guangdong Province, Dec. 26, 2015. [Photo/Xinhua]
Prosecutors from both the SPP and the local procuratorate of Guangdong will form a special team to investigate the incident, the SPP said in a statement.
The prosecutors will also work with the State Council investigation team to seriously deal with possible duty-related crimes in the case, such as misuse of power, dereliction of duty and bending the law for personal interests, it said.
The SPP pledged to bring the offenders behind the incident to justice and make further efforts to ensure work safety.
The State Council investigation team confirmed Friday that the landslide in Shenzhen that has left dozens missing was a work safety incident, not a geological disaster.
The tragedy was caused by the collapse of a huge pile of construction waste, rather than any natural geological phenomenon, according to the State Council team.