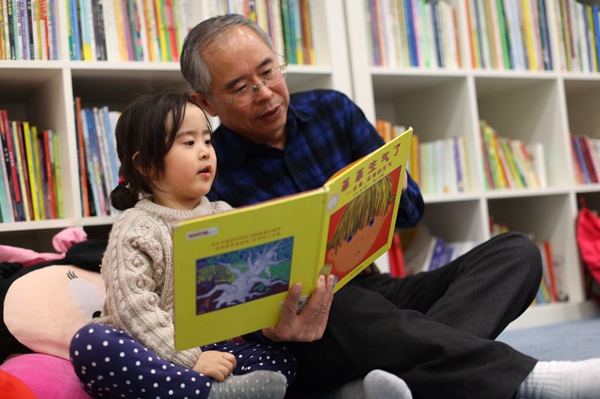 A grandfather reads stories to his granddaughter at a library in Beijing. The middle class read more than the national average by a large margin. [Photo by Wang Jing/Asianewsphoto]
BEIJING - An average middle class citizen in Beijing earns 256,016 yuan ($39,528) per year, the highest among Chinese cities, according to a research report released by the Chinese Academy of Social Sciences (CASS).
The "social blue paper" features the profiles of middle class citizens in three of the country's most developed cities -- Beijing, Shanghai and Guangzhou.
According to the paper, an average middle class citizen in Shanghai earns 219,770 yuan annually, and in Guangzhou they earn 170,037 yuan each.
The average annual income of the middle class is approximately 200,000 yuan, 3.5 times the average of the lower strata.
According to the criteria, 55 percent of the population in Beijing is middle class, in Shanghai it is 51 percent and Guangzhou 42.5 percent.