Sales of fireworks will be curtailed in Beijing during the coming Spring Festival holiday if air pollution alerts reach orange or red levels - the two highest - as part of the city's effort to minimize air pollution.
Setting off fireworks will again be prohibited during high alerts.
The restrictions drew both objections and applause from the public. Beijing native Gao Fei, 25, approved of them, saying he has not purchased a lot of fireworks since 2013 and prefers to celebrate the festival in a more modern way, chatting with friends online and visiting with parents.
But Liu Yong, a 45-year-old from Liaoning province who lives and works in the capital, said he would set off fireworks as much as he can during the holiday, because it's a ritual that reminds him of his sweet childhood with friends back in his hometown.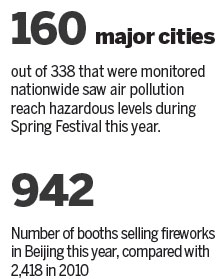 "The government needs to strengthen its control of emissions from industrial production and coal consumption, not the temporary setting off of fireworks," he said.
Residents in the capital will be able to buy fireworks from Feb 3 to 12 to celebrate Spring Festival, which falls on Feb 8.
If the same pattern continues from this year, fireworks will be allowed for 15 days, beginning with the holiday.
But if the capital has issued an orange or red smog alert the authorities will suspend the transportation and sale of fireworks, the Beijing Administration of Work Safety said.
Setting off fireworks has been regarded as an inseparable part of the festival and is a major contributor to bad air. During Spring Festival in Beijing this year, readings of PM2.5 particulate matter tripled in five hours, the Ministry of Environmental Protection said. The tiny particles are 2.5 microns or less in diameter and can affect human health.
Among the 338 major cities monitored, 160 saw air pollution reach hazardous levels during Spring Festival, the ministry said.
The peak reading of PM2.5 was around 900 micrograms per cubic meter in Shenyang, Liaoning province, while the national safety level is 75 micrograms, it said.
To cut down on pollution from fireworks, Beijing has set restrictions in recent years. The number of fireworks selling booths dropped from 2,418 in 2010 to 942 in 2015, and the sales also shrank.