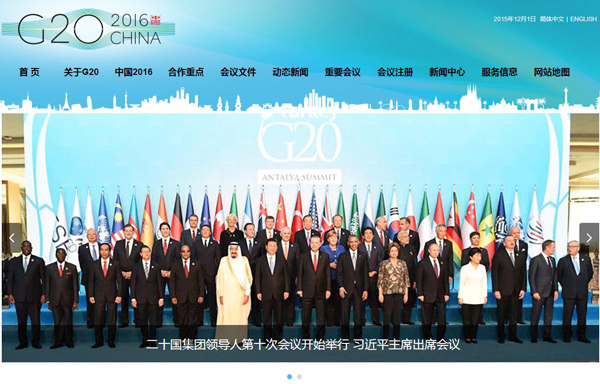 The screenshot of the 2016 G20's official website. 
BEIJING - Preparation for the 2016 Group of Twenty (G20) Summit is going smoothly, the Chinese Foreign Ministry's spokesperson said on Tuesday, as China officially took over G20 presidency.
The summit's official website is now in use and updates will be posted on it regularly, Hua Chunying said at a daily media briefing.
China will follow the principles of "openness, transparency and inclusiveness" in hosting the summit and maintain close coordination with member states, she said.
China will host the summit in the eastern city of Hangzhou on Sept. 4 and 5 next year.
In a statement released on Monday night, Chinese President Xi Jinping called on the G20 to make substantial progress in promoting international economic cooperation, and to help solve pressing problems facing the world economy.
The theme of next year's G20 summit is "building an innovative, invigorated, interconnected and inclusive world economy".
China's preparations will be focused on innovating in growth patterns, improving global economic and financial governance, boosting international trade and investment, and promoting inclusive and interconnected development, according to Xi.