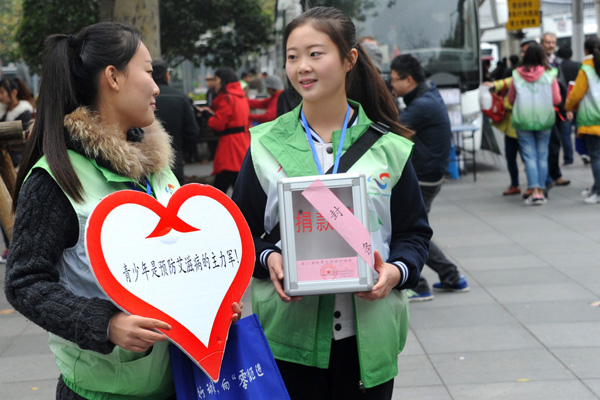 Young volunteers for AIDS prevention raise money on the street in Jing'an district, Shanghai on Nov 30, 2014, the eve of World AIDS Day. The money will be used for philanthropic projects on AIDS prevention. [Photo/IC]
An HIV-positive couple in Shanghai are in their 11th year since discovering both are infected with the virus and put their longevity down to the fact that neither has given up despite the suffering brought on by the disease, thepaper.cn reported on Tuesday.
The wife, using the alias Xiaoxue, was told she was infected with HIV in 2005 while pregnant with her second child. Her husband, using the alias Liu Jie, was also diagnosed as an HIV virus carrier.
"I don't know how long we have been climbers laboring up thousands of feet of vertical cliff but must keep going up if we want to survive," said Liu Jie. "Now I see today's sunshine and I just can't help but laugh at the fact that I'm still alive today".
Their tragedy can be traced to 1995 when Xiaoxue received a blood transfusion after she hemorrhaged during the birth of her first child. The transfusion infected the woman with HIV.
The woman's second child, born in Nov 2005, was healthy, free from HIV due to effective intervention. The infant was reported to be the first healthy baby born to an HIV-positive mother in Shanghai.
Seeing their AIDS-free son in 2005, the couple wished "they could be both alive 20 years into the future".
Ten years have passed, and Xiaoxue's condition is better than that of her husband.
Xiaoxue takes medicine, tutors children, does housework, accompanies parents once a week and works while her husband was stricken with Kaposi's sarcoma in 2006, turning him into an AIDS patient, and he contracted Parkinson's disease in 2013, leaving him unable to move freely.
Though Xiaoxue has to wake up four to five times every night to help her husband turn his body during sleep, she told her husband "please never feel sorry for me, I would like to stick it out and spend the future with you."
Despite his problems, Liu Jie still insists on taking a walk for three hours every day, doing work on a computer, making a dish for the family sometimes and meeting friends at parks.
Along with the couple's efforts to keep living, their two children have grown up without failing their expectations.
Nowadays, the eldest daughter studies at a key university and tries to help her mother care for her father, while the little boy proudly told his grandparents not to take him to and from school, because "I can go to school and come back home alone" when most of his peers are carried by their grandparents or parents.
The family's story, full of love and strong willpower, has caused many Internet users to sympathize with them. "Please keep on living", said one named tanshane, whose comment received 56 likes.