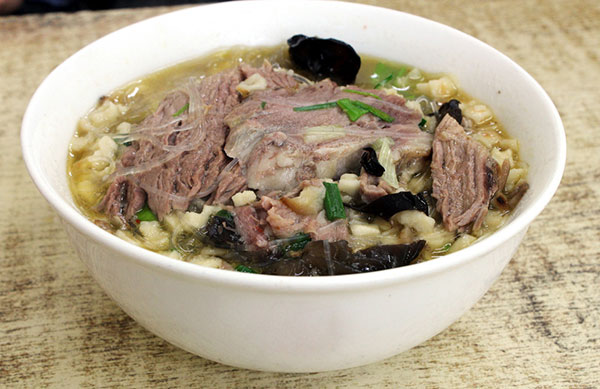 Pita bread in mutton soup is among Xi'an's delicacies. CHINA DAILY
As Xi'an-style foods gain in popularity, the local industrial standards authority says it is going to regulate the recipes of the ancient city's most famous foods.
Xi'an, the capital of Shaanxi province, is the Chinese city best known for the Terracotta Warriors. But its people are also proud of having arguably the largest number of traditional delicacies of all cities in North China.
The Xi'an Bureau of Quality and Technical Supervision announced on its website on Tuesday that it is soliciting public opinion, especially from those in the food industry, on creating standards for Xi'an's five most famous foods.

These include the Chinese hamburger, also known as the Shaanxi sandwich, or rou jia mo, and pita bread soaked in mutton soup, yang rou paomo.
Yang Yihui, an official with the bureau's standardization division, said the government wants to specify the basic requirements for making these foods, rather than regulating the stylistic features of different chefs or restaurants, in order to support the branding power of Xi'an foods.
Zuo Chongnian, a commentator on People.com.cn, the website of People's Daily, agreed with the move.

He said that people from elsewhere were operating Xi'an-style restaurants and "not a small number" of their offerings were poorly made and damaged the reputation of Xi'an foods.
A Xi'an restaurant owner surnamed Cao said that the foods listed in the bureau's announcement are representative of Xi'an, and so they need to share some basic technical standards.

It shouldn't be difficult to innovate without compromising the dishes' essential qualities, Cao said.
Officials said that public opinion will be collected from Tuesday until Dec 15. Some netizens said that standardizing local foods would be useless.
In addition to Xi'an-style restaurants in many Chinese cities, the dishes have an international influence. One such restaurant in New York City is owned by an immigrant from Xi'an who uses a traditional family recipe for pita bread and mutton soup.