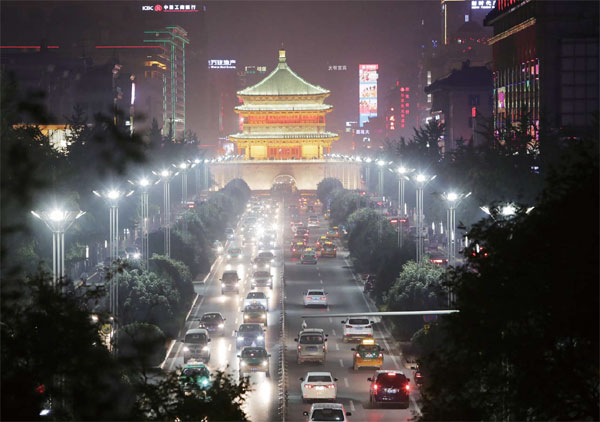 The ancient city of Xi'an has a magical mix of old and new. Sanka Vidanagama / For China Daily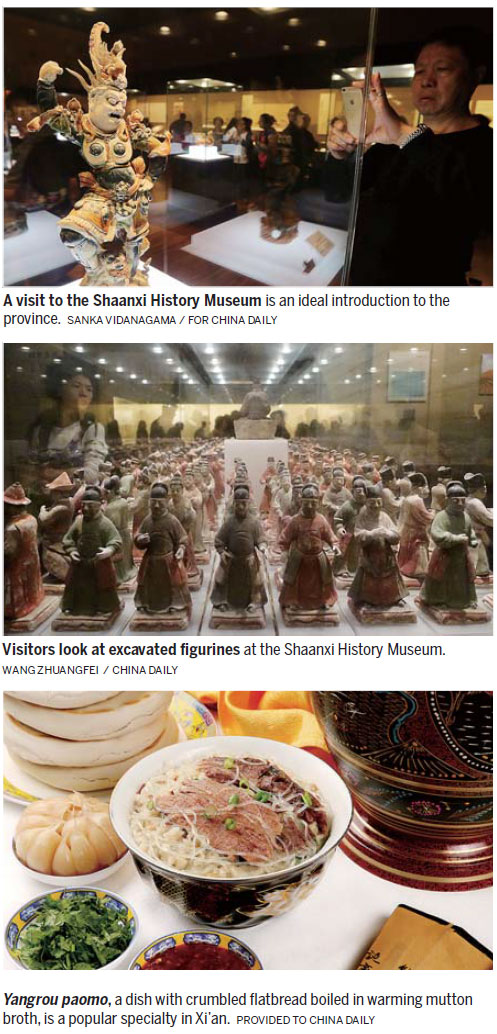 Xi'an offers multitude of options for discerning visitors of all tastes, Clare Buchanan reports.
Cameras clicked to capture the contrast between the glowing red lanterns standing on Xi'an's ancient City Wall and the neon lights of the skyscrapers beyond.
All I could hear was the faint buzz of traffic below, as the normally chatty group I was with hushed to a concentrated silence, trying to capture the magical mix of old and new with their lenses.
Our group - 12 foreign journalists and photographers from 11 Asia News Network media outlets - had headed to the City Wall fresh off a flight from Ningbo, Zhejiang province.
After spending four days reporting on high-tech industries and top-class port facilities and wandering modern malls and spick and span streets, Xi'an was a complete change of scenery.
Our trip organizers, China Daily and the Shaanxi Provincial Tourism Administration, welcomed us with a delicious Chinese dinner and the chance to sample fried scorpions.
For the majority of the group, this was their first time in China and their excitement rubbed off on me. We couldn't wait to immerse ourselves in the dynamic city and all it has to offer.
During our four-day visit, we were enthralled by what Xi'an and Shaanxi province does best - culture and history.
A visit to the huge Shaanxi History Museum was the ideal introduction to the province and a chance to catch a glimpse of some of the Terracotta Warriors that have been moved to the museum for the benefit of tourists who may not make it to the famous archeological site an hour outside the city.
The museum visit brought the region's legacy as a political, economic and cultural center of the nation into focus.
Xi'an was once the country's capital, one of the richest and best-protected cities in China and the starting point of the ancient Silk Road, a vital trade and communication route between the East and West.
From our stay in Ningbo, the starting point of the maritime Silk Road, we had learned a lot about the efforts being made to revitalize these routes under President Xi Jinping's Belt and Road Initiative.
Countries and regions along the routes are working to strengthen exchanges and development in line with the initiative and, throughout our trip, we realized that Shaanxi is no exception.
A stone's throw from the museum stands the Big Wild Goose Pagoda, a landmark in Xi'an that was built in AD 652 during the Tang Dynasty (AD 618-907) to house Buddhist sutras brought back from India.
The pagoda and its grounds provide a peaceful oasis amid the surrounding skyscrapers and as we wandered around we were disturbed only by a group of charming schoolchildren looking to practice their English with us.
I have been to Xi'an a few times and was particularly looking forward to heading back to the city's Muslim quarter, which did not disappoint.
Tucked behind the Drum Tower, the back streets have long been home to the city's Muslim community and are bustling with shops, traders, a couple of small mosques and hundreds of food stalls.
We visited at night, when the area comes to life, with hand-pulled noodles being thrown around and bubbling pots spurting out steam that shrouds the dazzling neon lights.
Although we came straight from a filling hotpot dinner, the tour got our taste buds going and we couldn't resist tucking into local treats while picking up souvenirs for friends and colleagues at home.
Our other evenings in Xi'an were just as entertaining and one night we went to watch a Tang Dynasty show with impressive displays by dancers and singers in colorful costumes.
We enjoyed the performances with a dumpling banquet, where we were served no less than 32 types of jiaozi, or dumpling, which varied in color from purple to green and came in all shapes and sizes, including some like little ducks that looked almost too good to eat.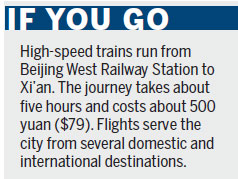 Mealtimes throughout the trip were almost as enlightening as the sights we saw and as a group we bonded over big bowls of Shaanxi's famous noodles and yangrou paomo, a dish that required us to crumble up a flatbread before adding to a warming mutton broth.
We welcomed the opportunity to walk off all the delicious food at the Hanyang Mausoleum, which covers 20 square kilometers and is the largest museum by floor space in China.
Also known as the Yang Mausoleum, the cemetery that includes the final resting places of Emperor Jing of Han and his queen was built from 153 BC to 126 BC and is a must-see for any history fan.
All too quickly, our busy time in Shaanxi came to an end and after four days in the province each of us had formed our own impressions of what we had seen and done.
The night before we were due to travel our separate ways home we compared ideas about the stories we would tell through our writing and photographs.
Some of our group wanted to focus on the rich history and culture, while others were struck by the stunning scenery. But one thing we all agreed on was that we would have no shortage of experiences to share.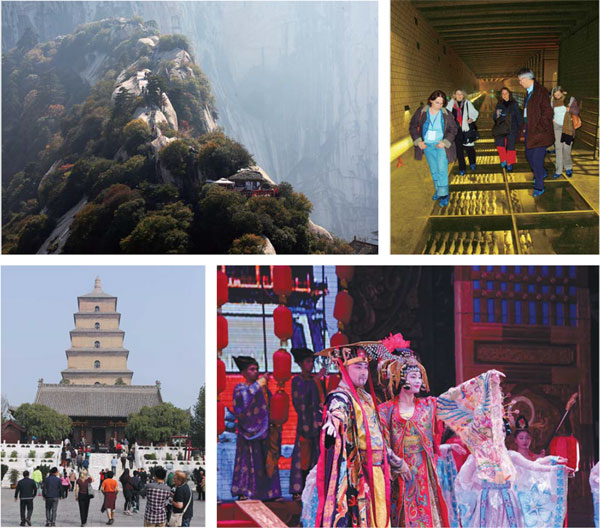 Top left: The North Peak is one of five peaks on Huashan Mountain in Xi'an. wang zhuangfei / China Daily Top right: Tourists appreciate cultural relics beneath a glass corridor at the Hanyang Mausoleum. provided to China Daily Above left: The Big Wild Goose Pagoda, a landmark in Xi'an, houses Buddhist sutras brought back from India. Sanka Vidanagama / for China Daily Above right: Tourists can enjoy traditional Chinese performances during a dumpling banquet. Sanka Vidanagama / For China Daily
(China Daily 11/10/2015 page6)