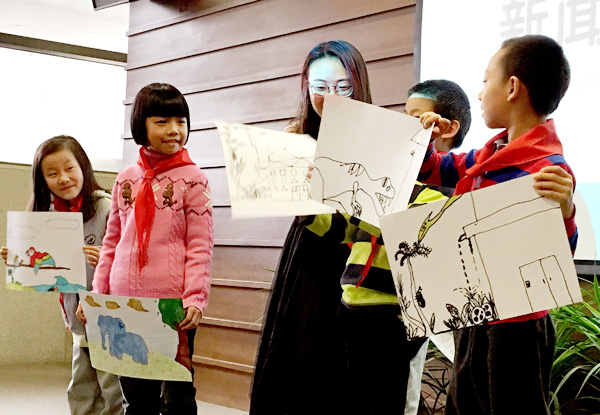 Second from left: Jiang Yake shows her painting at the launch ceremony of the national youth painting contest, held at the China Central Academy of Fine Arts in Beijing on Tuesday.[Photo provided to China Daily]
Viewers online may 'tip' their favorite paintings with a few yuan
An 8-year-old girl who gained admirers nationwide by selling her paintings to earn money for her leukemia-stricken father's medical treatment has a new venue for marketing her art: a national painting contest for children.
Jiang Yake, from Changsha, the capital of Central China's Hunan province, touched the hearts of many Chinese people in September with her series of inspiring paintings and her goal of paying her father's bills.
Her story also captivated the organizers of the contest, the China Youth Development Service Center in Beijing, which on Tuesday, announced the competition and urged viewers to "tip" the works they like after viewing the paintings on the contest website.
"The tipping could be 10 yuan ($1.56), 100 yuan or more as you wish, if you like the children's paintings," Sun Zhu, the center's director, said at the ceremony introducing the contest.
The contest proposes to enable art-loving children to show their talent and imagination, and also receive financial assistance. "It's a combination of fine arts and public service," Sun said.
According to the contest's rules, children between the ages of 3 and 12 are eligible to participate. Contestants who need financial assistance can obtain funding through online tipping, selling their paintings at auction, and selling the usage rights of their art.
Those who don't need financial help can choose to donate their tips to less fortunate peers.