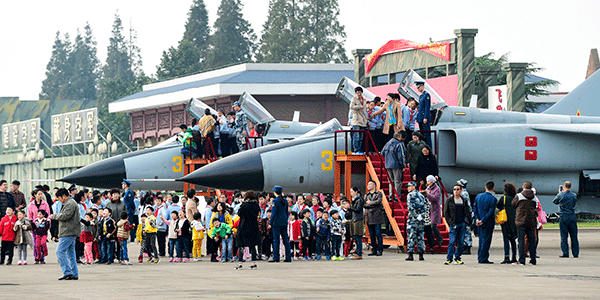 Residents visit a PLA Air Force base in Hangzhou, Zhejiang province, during an open day on Wednesday marking the force's 66th anniversary.  Li Zhong / for China Daily
The People's Liberation Army Air Force opened a Sina Weibo micro-blogging account on Tuesday, following a succession of open house events aimed at boosting its public relations and marking the 66th anniversary of its founding on Nov 11.
Despite having only seven posts by Wednesday night, more than 6,900 micro-bloggers had followed the account on Sina Weibo, China's largest social networking website by the number of users.
By press time, the latest post on the account was issued on Wednesday evening, introducing the story of a daughter of an Air Force officer who died in line of duty.
On Wednesday morning, Colonel Shen Jinke, spokesman for the Air Force, announced on the account that aircraft from the Chinese and Thai air forces will conduct the Yingji-2015, or Eagle Strike-2015, joint drill at a military air base in Thailand from Thursday to Nov 30.
In addition to the Sina Weibo account, the Air Force also opened an account on the country's most popular smartphone social networking app WeChat, which boasts more than 650 million users. However, no posts had been released on the platform by Wednesday.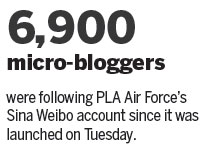 Eighteen of the Air Force's bases and units were opened to civilian visitors on Tuesday and Wednesday, with tens of thousands of aviation enthusiasts flooding in to see aircraft and equipment.
Wu Peixin, a military observer in Beijing, said leaders of the PLA now understand that a good image and close contact with the public will facilitate the military's recruitment efforts and improve the public's confidence in its capabilities.
Currently, the most influential Sina Weibo account operated by the PLA is that of its newspaper, PLA Daily. The account was launched in August 2011 and now has nearly 9 million followers.
The PLA Navy also opened a micro blog on people.com.cn, the flagship website of People's Daily, in April.
As of Wednesday, the account had garnered more than 1.9 million fans.
zhaolei@chinadaily.com.cn