Beijing will replace an aging overpass with a new one weighing 1,300 metric tons within 24 hours starting on Friday.
If the job is completed as planned, it will set a record in China for the shortest replacement time involving such a large structure in heavy-traffic downtown areas, the Beijing Municipal Commission of Transport said on Tuesday.
The replacement will take place at the Sanyuanqiao overpass on the northeast section of the Third Ring Road, which links the city with Beijing Capital International Airport. It is one of the busiest traffic hubs in the city.
This will be the first time in China that special dollies - low, wheeled platforms - that are able to carry 1,000 tons each will be used to move giant prefabricated bridge pieces and install them fully intact, said Hou Xiaoming, deputy director of the road management department of the commission.
The original overpass was completed in 1984.
The overpass and the section of the Jingshun Highway beneath it will be closed from 11 pm on Friday until midnight on Saturday. Detour lanes for buses have been under construction since September. Automobiles will be prohibited.
Workers have prepared buttresses inside and outside the Third Ring Road to prop up the new bridge span and old sections.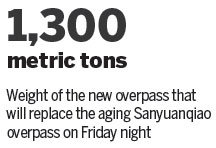 They will cut the old bridge into 18 pieces and move them to the buttresses. The new bridge will then be moved into place, taking over the spot using two specially designed dollies, each able to carry the extremely heavy load - up to 1,000 tons each - and rejoining the exposed two ends of the road.
When the overpass is finished and traffic resumes, the old bridge sections will be hauled away.
In the past, building an overpass in downtown areas has taken months to complete. This project will be fast because of sophisticated engineering and careful preparations, Hou said.
Beijing has more than 200 overpasses inside its Fifth Ring Road, the most in the country. Sanyuanqiao is four times the size of the Xizhimen overpass in downtown Beijing, which was replaced six years ago using older engineering technology.
"If successful, it will serve as a good example for other cities to follow in downtown areas troubled by traffic jams," Hou said.
As one of the country's largest overpasses and one of the busiest traffic hubs in Beijing, Sanyuanqiao every day sees more than 200,000 automobiles, along with buses from 48 routes carrying 726,000 passengers, according to Qin Dahang, an engineer at Beijing General Municipal Engineering and Research Institute Co.
The short construction time means less inconvenience for residents, he said.
huyongqi@chinadaily.com.cn