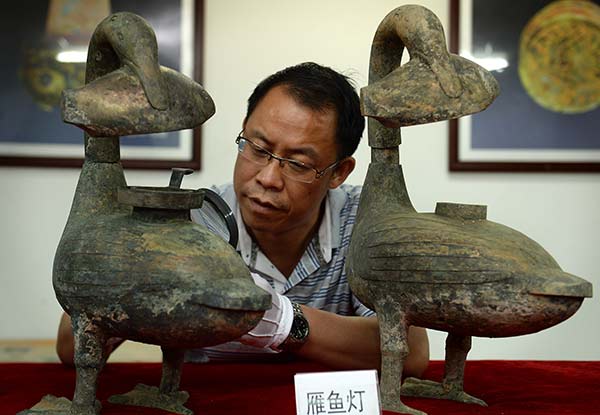 An archeologist inspects ancient bronze lamps that were excavated from a tomb of the Marquis Haihun vassal state, in Nanchang, Jiangxi province, in August. Wan Xiang / Xinhua
A lost ancient state in Jiangxi province was unveiled to the public on Wednesday, when major archaeological breakthroughs were announced at a news conference in the provincial capital of Nanchang.
The full scope of the vassal state ruled by Marquis Haihun, from the Western Han Dynasty (206 BC-AD 24), was finally revealed after a five-year archaeological project involving China's top research institutions, including the Chinese Academy of Social Sciences, Peking University and the National Museum of China.
The earliest mention of the state was in the Book of Han, which was compiled in the first century.
In 2007, some scattered tombs of Haihun were discovered in Nanchang. A major discovery followed the investigation of tomb-robbery in 2011. A retrieved gold article was believed to have been used by an emperor, and a tomb belonging to a person of high rank was found in Nanchang's Xinjian county.
Marquis Haihun is the title given to Liu He (92-59 BC), a dethroned emperor of the Western Han Dynasty.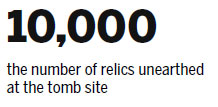 Liu's reign lasted for only 27 days, the shortest among Western Han monarchs. He was dethroned for debauchery and a licentious lifestyle, but the marquis title continued through three subsequent generations of rulers, Liu's descendants. Final destiny of this family is still under study due to lack of historical files.
It is not yet known for sure whether the tomb belonged to Liu and his wife or his descendants. However, Zijin city, where the tomb was found, is thought to be the capital of the vassal state, which had been cloaked in mystery partly because the state was once inundated by the waters of Boyang Lake.
According to Xu Changqing, director of the Jiangxi Provincial Archaeological Research Institution, the tomb site covers 40,000 square meters. About 10,000 cultural relics, including gold and bronze ware, along with jade items, were unearthed in the area. About 6,000 of them were found in the coffin chamber, which is where the most important discoveries were made.
"It's the best-preserved and most complete relics cluster ever found of the vassal state of Western Han Dynasty, Xu said.
Contact the writer at wangkaihao@chinadaily.com.cn