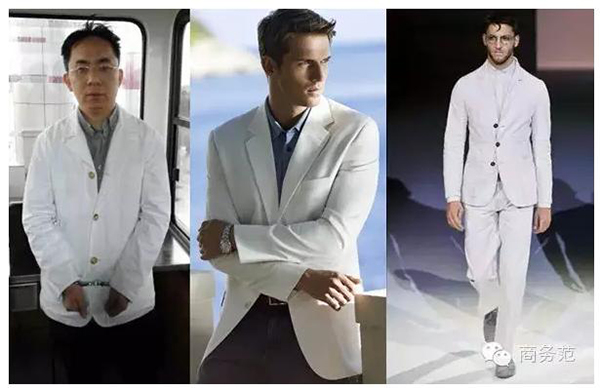 An Internet user posted a comparison photo showing what the same jacket worn by Xu, in handcuffs left, looks like on handsome, muscular models. [Photo/Internet]
The detention of a Chinese fund manager for suspected insider trading and stock market manipulation has created an outcry among Internet users, not because of his questionable business ethics but rather his lousy sense of fashion.
With only a high school education, Xu Xiang, 37, had more than 10 billion yuan ($1.58 billion) worth of assets under his management before being arrested and his firm managed to repeatedly outperform the market with investment returns exceeding 300 percent even when the market suffered sharp declines.
With a reported personal wealth of more than four billion yuan, Xu was spotted wearing a wrinkled and ill fitting lab coat-like blazer. Added to his messy and unstylish hair, the exhausted Xu looked nothing like a trend-setting financial tycoon but rather a worn out physician when he was arrested.
A photo of him wearing handcuffs was leaked online Sunday night, which is believed to capture the moment he was detained by police.
After an initial wave of public derision targeting Xu's business ethics, Chinese Internet users shifted the focus of their ridicule toward the lab coat-like blazer, which was identified by stylists as a Giorgio Armani creation worth 26,999 yuan.
"Are you sure he was detained for market manipulation instead of illegal medical practices?" some Internet user asked mockingly.
"How come the dentist in the ambulance can manipulate stock price?" another added jokingly.