Executive Director of the United Nations Population Fund Babatunde Osotimehin said he hopes the universal two-child policy announced by China last week will lead to the fulfillment of what he characterized as a basic right for all individuals in China to decide freely and responsibly the number, spacing and timing of their children.
He made the comment after the Communist Party of China Central Committee announced on Thursday that the decades-old family planning policy would be changed to allow all couples to have two children. The objective is to balance population development and avoid a potential labor shortage in the future.
"We, at UNFPA, are committed to working with the government of China to advance and strengthen the sexual and reproductive health and reproductive rights of all Chinese people, especially those of women and young people," he said.
The principle that the number of children should be decided within the family was adopted by all the countries attending the International Conference on Population and Development in Cairo in 1994.
Mu Guangzong, a demographics expert at Peking University, suggested the government take into consideration a basket of indicators for human development, not just economic ones.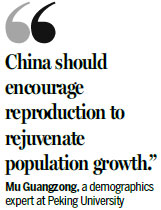 Like Osotimehin, he said all policies limiting childbirth should be abolished. "Instead, China should encourage reproduction to rejuvenate population growth," he said.
The 2010 population census found that China's total fertility rate - the number of children born in a woman's lifetime on average - stood at 1.18, far below the minimum 2.1 necessary to simply replace the population and hold steady.
At that rate, one-third of the population would be seniors by 2050, following the trend of a shrinking working-age population and fewer children, he said.
Under the new policy, about 90 million families would qualify for more children, which would help raise the population to an estimated 1.45 billion by 2030. China, the world's most populous nation, had and estimated 1.37 billion people at the end of 2014, according to the National Health and Family Planning Commission.
In addition to the change in the fertility policy, the central government proposed to strengthen and improve public services such as reproductive health, maternal and child healthcare and nursery services, the government's statement said.
Li Bin, minister of the commission, said the supply of such social goods will be expanded to facilitate the new policy, in line with people's expectations, and will benefit them over the long run.
Also, care and support by the government for those who suffer hardship in the context of the one-child policy, primarily parents who lost their only child to accidents or disease, must be enhanced.
shanjuan@chinadaily.com.cn