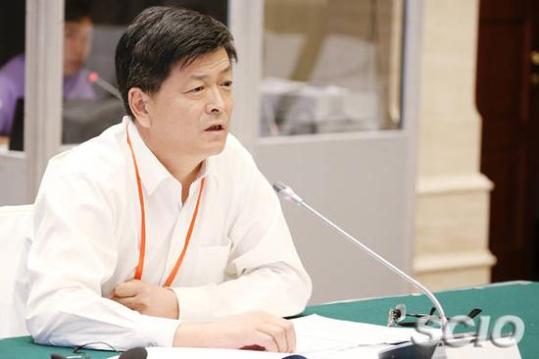 Zhao Xinwei, former Party secretary and editor-in-chief of Xinjiang Daily. [Photo/Xinhua]
Zhao Xinwei, former Party secretary and editor-in-chief of Xinjiang Daily, has been placed under investigation for suspected "serious disciplinary violations".
The Xinjiang anti-graft watchdog said Zhao publicly made comments that were contrary to major work plans and policy decisions issued by the Communist Party of China Central Committee and the Xinjiang Uygur autonomous region Party Committee. He also deliberately made decisions opposing major work deployments made by central and local Party authorities, it said.
It also said Zhao has been expelled from the Party, removed from his post, and that his ill-gotten gains will be confiscated.
From 2005 to 2011, Zhao served as the Party secretary, editor-in-chief and vice-president of Xinjiang Daily, a Party newspaper under the regional Party Committee Publicity Department.
The commission said Zhao allegedly wasted and embezzled public funds or failed to investigate or stop internal departments at Xinjiang Daily from secretly setting up bank accounts.
He also allegedly abused his power to gain benefits for others on personnel selection and appointments, transfers and retirement and enterprise management. He then allegedly accepted huge bribes from them either in cash or property, according to the commission.
He is also suspected of hindering anti-graft officers in reviewing his alleged wrongdoings and of colluding with others to fabricate evidence, it said.
Evidence in his case will be sent to law enforcement authorities for further investigation.
On Monday, the CPC Central Commission for Discipline Inspection issued a revised regulation on disciplinary punishments. Under it, any Party member who contravenes the Party's major policy decisions and destroys its unity will be subject to punishment.
Ma Sen, director of the Laws Department at the commission, said any member who acts against the Party not only "seriously disturbs people's thoughts" but also hinders the implementation of the central authorities' guidelines and policies.
Ma said any Party member who engages in such activity will receive warnings or even face punishment such as being demoted or fired.
Meanwhile, Zhao Guo-ming, former Party secretary of the Xinjiang Uygur autonomous region's Poverty Relief Office, was also placed under investigation on Monday for "serious disciplinary violations", according to the central commission.