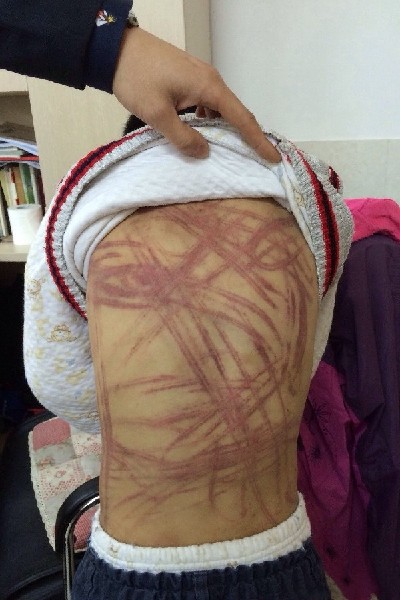 The young boy shows off the scars on his back from abuse by his adoptive parents. Photo taken in April 2015. [Photo/IC]
A mother on trial for physically abusing her 9-year-old adopted son admitted on Monday that she had beaten her son, but insisted that she did not "beat him hard" and was innocent of the charges against her.
Li Zhengqin, on trial in Nanjing, Jiangsu province, said she had whipped her son with "a good intention" after finding he repeatedly had lied.
"I've tried in vain for three years to help him stop lying. I was afraid that he might develop other bad habits in the future," Li said. "I wanted to educate him and didn't mean to hurt him. I did beat him that night, but I didn't beat him hard."
Police said the boy's injuries, which they described as minor, covered 10 percent of his body.
Two forensic experts hired by Li's lawyer, Hu Zhiqiang and Zhuang Hongsheng, however, said the boy's injuries were not serious enough to be identified as minor injuries.
In April, one of the boy's teachers posted photos of the boy's injuries on his back, feet and hands. The boy, who was adopted at age 6, said he was beaten for failing to finish extra homework his mother had given him.
Bloodstains seen in the photos angered Chinese netizens and aroused public concerns over the boy's well-being. About 100 members of the media attended Monday's trial from across the country. It was not known when the judge would rule in the case.
The adoptive parents, a lawyer and a reporter, are relatives of the boy's biological parents. The boy's biological mother, surnamed Zhang, sued the schoolteacher who uploaded the photos for infringing on the family's "privacy, reputation and the right of portrait".
The teacher revealed the boy was adopted, and that his school grades had been fallen dramatically after his adoptive mother was detained, Zhang said.
"I hope the adoptive family can take the boy back as soon as possible," Zhang said. "They can provide a better living environment, and they care about him."
On Friday, the local court ruled that the teacher was not guilty of the charges filed by the boy's biological parents.
Parents accounted for about 75 percent of the 697 child abuse cases reported by the media from 2008 to 2013, according to the Beijing Youth Legal Assistance Research Center.