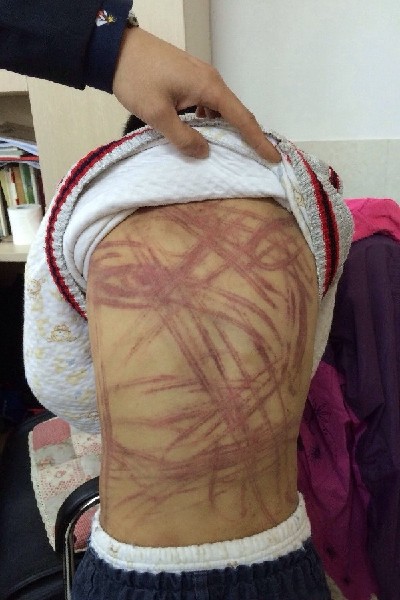 The young boy shows off the scars on his back from alleged abuse by his adoptive parents. [Photo/IC]
A panel of experts has voiced divided views on the arrest of an adoptive mother who allegedly abused her 9-year-old foster son.
During a hearing in East China's Nanjing on Friday, the Pukou district people's procuratorate listened to 18 people on whether to arrest the woman, surnamed Li.
She was detained after photos of suspected lash marks on the child's back, arms and legs went viral online in March. Some advised the procuratorate to be careful when handling domestic violence and put the boy's interests first, while others said she should be treated severely.
The public panel consists of people ranging from political consultants to legal experts, psychologists to educators.
The procuratorate said it would consider the panel's opinions when deciding whether to issue an arrest for the woman, who has been under police detention for 10 days for intentional injury.
The online photos triggered an outcry to punish Li. A medical appraisal reported the boy suffered injuries on 10 percent of his body.
Li's lawyer read her apology letter at the hearing, in which the mother said she was in hysterics when she beat the boy with a wooden stick.
"I would double my love to take care of the boy in the future," she said in the letter.
Li is the cousin of the boy's natural mother. The adoption was agreed to by both families. But the procuratorate said the adoption did not go through formal procedures.
The boy told the hearing he would still like to live with the adoptive mother.
A child abuse offense refers to family members frequently mistreating a child. The crime can be punished with up to two years in prison.
Of the 697 child abuse cases exposed by the media from 2008 to 2013, about 75 percent were committed by biological parents, the Beijing Youth Legal Assistance Research Center said.