The police bureau in Nanjing, East China's Jiangsu province, has announced on Sunday that a woman was detained for physically abusing her adopted son.

According to the police, the boy was abused by his adoptive mother because he could not finish the extra homework she gave him.
Scars were found on the boy's hands, feet and back. Police said he was hit with a scratching rod, whipped with ropes and kicked.
The woman, who is in her 50s, has been detained by police for alleged crime of willful and malicious injury, and the boy has been temporarily placed with his biological parents.
Pictures of the nine-year-old boy suspected of being abused by his adoptive parents went viral online in China after they were uploaded by an Internet user on Sina Weibo on Friday.
The images, posted by "chaotingbanrixian" showed the young boy covered in scars and bloodstains.

"One of the boy's teacher discovered that the boy received more and more injures recently and preferred to stay alone, " chaotingbanrixian wrote on the Twitter-like microblog. The user also wrote that abuse was first suspected of being abused last year, but the school thought it was an accident so it didn't get publicized.
The boy told the teacher that his parents were beating him with water pipes and branches, burning him with water vapor, and jabbing him with nibs.
The microblog post received wide attention online and people are calling for severe punishment for the parents.
According to the Nanjing Morning Post, the boy was legally adopted when he was six and the parents are highly educated, one is a journalist and the other a lawyer.

An investigation is under way, said the Nanjing police.
Last month, a six-year-old girl in Yiwu City, East China's Zhejiang province, was allegedly beaten to death by her mother during a "family dispute", triggering calls for better protective measures for minors.
Of the 697 child abuse cases exposed by the media from 2008 to 2013, 74.75 percent were committed by parents, the Beijing Youth Legal Assistance Research Center revealed.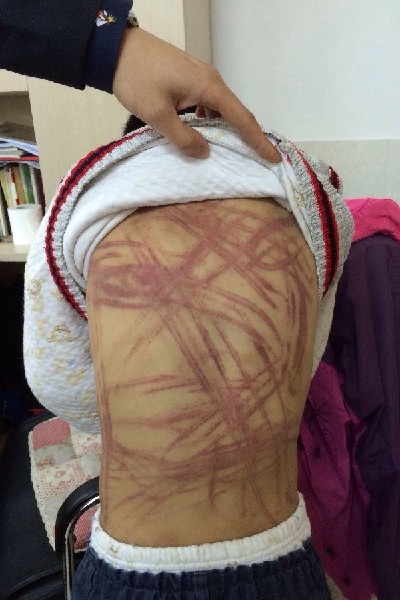 The young boy shows off the scars on his back from alleged abuse by his adoptive parents. [Photo/IC]