More than 4,700 Party officials have been disciplined for failing to carry out their supervisory responsibilities in the first half of this year.
The failures resulted in a series of corruption cases during this period, a senior official from the Central Commission for Discipline Inspection said on Thursday.
The officials punished come from 370 national Party organs and disciplinary inspection departments, said Zheng Zhencheng, an official at the commission who is in charge of supervising Party officials' working style.
Zheng said the number of officials disciplined in the first six months was more than for all of last year. This was a sign that the country had intensified efforts to stress the responsibility of Party leaders and heads of disciplinary inspection departments to "nip corruption cases in the bud".
Wang Qishan, head of the commission, said at a recent key meeting of the top anti-graft watchdog, "Pursuing leading officials' responsibilities is considered a sharp weapon to govern the Party strictly."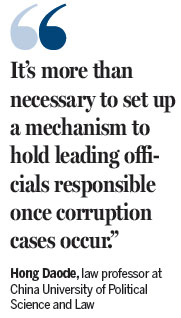 Since November 2012, when the new leadership was elected, the anti-graft campaign has become a top national priority. A number of major regional corruption cases have occurred nationwide, due to weak leadership and lax supervision by local Party leaders and directors of disciplinary inspection departments.
In a case last week, Liu Hongjian, former Party chief of Nanchong, Sichuan province, was charged with dereliction of duty and sentenced to three years in prison.
Liu was also given serious warnings and removed from his post for failing to carry out his supervisory responsibilities in an election bribery case that involved 477 officials.
Zheng said errant officials could receive warnings or be ordered to write self-criticisms. In serious cases, they could be given serious warnings, public criticism, be expelled from the Party or removed from their posts.
Hong Daode, a law professor at China University of Political Science and Law, said, "It's more than necessary to set up a mechanism to hold leading officials responsible once corruption cases occur.
"They will then become self-disciplined and tighten supervision of other officials to prevent corruption.
"If they discover an inclination by someone to break Party rules, they can meet with them personally or invite anti-graft officials to do so to ask for information ... so that they can prevent major corruption cases."