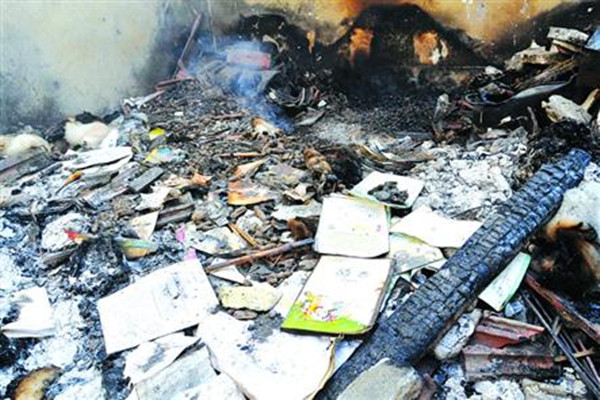 Zhang Jimin's burnt house. [Photo/Xinhua]
Relatives of a villager who was burned to death in his home during a government demolition attempt reacted with anger and disbelief after a preliminary official investigation said the fire was started by the villager himself.
Zhang Jimin, a 46-year-old farmer living on the outskirts of Pingyi county, Shandong province, was burned to death in his home on Monday as local authorities tried to evict him.
The county government said in a statement on Wednesday that Zhang had purchased gasoline at a local gas station on Sept 11 and Sept 13, and a preliminary official investigation has excluded the possibility of arson.
"The fire was caused by the action of Zhang himself," the statement said.
The verdict of the incident has aroused the anger of some of Zhang's relatives.
"It was irresponsible for the authorities to give a verdict when the investigation was barely finished," Zhang Yong, a nephew of Zhang Jimin, said in a phone interview on Thursday.
Zhang said the family doubted the official verdict that Zhang Jimin started the fire.
"His clothes were barely destroyed. If it was self-immolation, there would be no clothes left," he said.
China Daily attempted to contact the county government, but received no response on Thursday.
Wang Xixin, a professor of administrative law at Peking University who has closely followed the incident, said that the authorities failed to support the verdict with professional investigation results.
"It would be very easy to determine the area where the fire was started. Yet the authorities failed to provide any details," he said.
Another relative, who refused to be identified, said government efforts to demolish villagers' houses started when local authorities tried to relocate the villagers into apartment buildings last year.
"They would offer each household a mere 60 yuan ($9.40) for each square meter of house demolished. However, they charge us 1,100 yuan per square meter for the new apartment. Most households in the village cannot afford it," he said.
Zhang and his wife supported the family mostly through the sale of crops from his farm, and would occasionally work at a local canned food factory for additional income.
They also had to support the schooling of their two daughters, who are 11 and 15 years old. Zhang's wife was hospitalized after being attacked on a minibus by thugs hired by authorities, the relative said.
"They can barely make ends meet, not to mention purchase a new apartment," he said.
Contact the writer at xuwei@chinadaily.com.cn