Green Safety Atmosphere Street became a fire safety street built by firemen and local people.
Song Hongli,vice secretary of the municipal party committee and Wei futang, the city's fire control commissar, unveiledthe nameplate for "fire safety street built by firemen army and local people" on July 30, Karamay Daily reported on Aug 8.
The safety street aims to make merchants care about their own safety and check for safety problems.
Vice Mayor Ding Youming said the ceremony is a presentation for the army and the people, reminding them to "breathe together, live together, and love together".
According to a shop owner surnamed Chen, the fire safety monument is a reminder to keep fire safety in mind. "Since my shop is on this street, I'm sure I will do my best in fire safety and set a good example for other merchants in the city" he said.
During the ceremony, the municipal fire control team also signed the "double supports" agreement with Green Safety Atmosphere Street's building company — Xinjiang Sanlian Investment Company.
After the ceremony, leaders carried inspected shops along the street for fire safety. People visited the fire trucks, dog trainers and practiced fire escapes.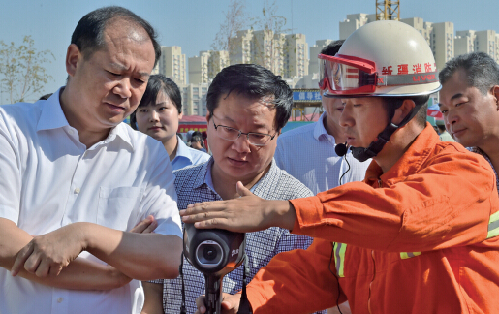 Song Hongli (left), Ding Youming (middle) and other leaders listen to firefighter explaining life detectors and other firefighting equipment on July 30. [Photo/epaper.kelamayi.com.cn]
Edited by Andrew Ancheta