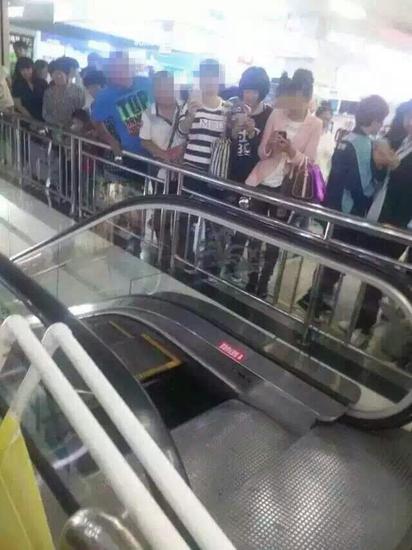 Onlookers taking photos of the broken escalator in a shopping mall in northeast China's city of Shenyang after one section fell off on September 13, 2015. [Photo/Sina.com]
A woman had a narrow escape when a panel of flooring at the top of an escalator gave way moments after stepping on it at a Chinese shopping mall on Sunday afternoon, Legal Evening News reports.
The women says she had heard a strange noise while standing the escalator and quickly hopped out, when she saw the section in front of her came off.
The latest incident happened several weeks later as a woman in central China's Jingzhou city fell through a gap that suddenly opened up at the top of an operating escalator and died.
Another customer onsite said that it was lucky that no one else was on the elevator at the time. Otherwise the incident could have led to injuries, he added.
The escalator was immediately decommissioned and the security staff are dealing with the incident and trying to find out the reason for the malfunction.
There have been an increasing number of freak accidents involving escalators in China and escalator and elevator safety has become a common concern.
Experts say that while stricter inspections of the escalators should be in place, customers themselves should also be fully alert when using them.
Experts say customers should hold the handrail while on an elevator and that customers should also be instructed to use the stop button when an accident happens.