As Mid-Autumn Festival approaches - this year celebrated on Sept 27 - bookings for moon-viewing flights have soared, according to a travel service provider.
Moon-viewing flights are flights that depart between 6 pm and 12 am from Sept 26 to 28. During the journey, tourists can enjoy the moonlight. This year is expected to be special, as during the three-day festival both a supermoon and a lunar eclipse will be visible in China.
A supermoon occurs when the moon comes closest to earth. The diameter will appear 14 percent larger than normal. According to NASA, the United States space agency, a supermoon is very rare. Last time a supermoon and lunar eclipse occurred near one another was more than 30 years ago. The next convergence will be in 2033.
Ctrip, a major Chinese travel agency, said this fact has made moon-viewing flights more popular than usual. "More tourists have chosen the night flight during the festival," said Yan Xin, Ctrip's publicity manager.
"The number of people who used the check-in service in advance doubled from last year. About 60 percent of them chose window seats." Yan added that window seats have sold out for flights in high demand.
Chang Yi, head of the publicity department at Spring Airlines, said the company introduced moon-viewing flights in 2013.
"We are now collecting the moon-viewing information. On Monday or Tuesday, we will have a full list for our clients to choose from." Chang said there were about 100 flights with a good view of the moon last year.
"Generally speaking, flights going east-to-west have a better view of the full moon. For an example, flights from Shanghai to Chongqing, Shanghai to Chengdu or Shanghai to Bangkok, Thailand."
Contact the writers at suzhou@chinadaily.com.cn and zhengjinran@chinadaily.com.cn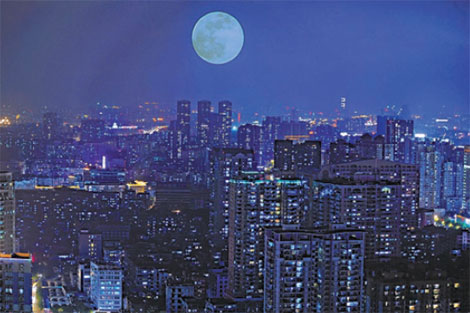 A supermoon - the seemingly largest moon of the year-hangs in the sky over Guangzhou on June 23 in this double exposure photo. Huang Chengfeng / For China Daily