Alibaba Group tycoon invests in joint project to develop prototype quantum computer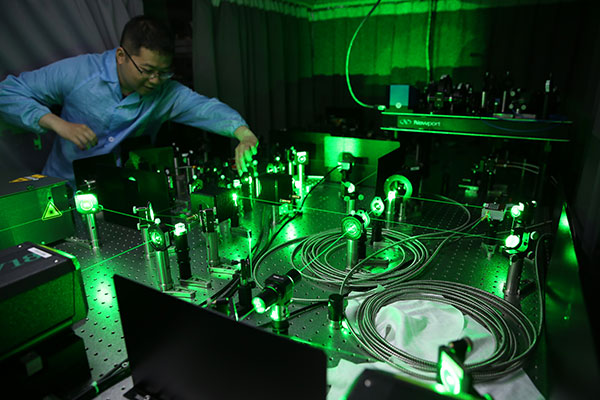 A researcher works on an ultracold atom device at a laboratory in Shanghai in July. Ultracold atoms have been proposed as a platform for quantum computation. Provided to China Daily
One year ago, Jack Ma, the founder and chairman of Alibaba Group, decided to buy a 50-percent stake in the Chinese Super League soccer club Guangzhou Evergrande for 1.2 billion yuan ($191 million).
Asked why, Ma half-jokingly replied that he had drunk too much with Evergrande Group's Chairman Xu Jiayin and had made the decision within 15 minutes.
Now the Internet tycoon has spent big again on another business deal "without realistic consideration". He is investing 150 million yuan on developing a prototype quantum computer.
First proposed by physicist Richard Feynman in 1982, the idea of a quantum computer is to use certain phenomena from quantum mechanics to perform operations on data.
Scientists in several countries have been developing this theoretical new kind of computer. If successful, large-scale quantum computers would be capable of calculations at speeds impossible for traditional ones.
For example, if you take a mug shot of yourself and want to compare it with pictures of every person on the globe to see who looks like you, it is a mission impossible for current computing technology. A quantum computer, on the other hand, will complete the task in 0.1 of a second.
Alibaba Group's cloud computing subsidiary Aliyun is setting up a joint quantum-computing laboratory with the Chinese Academy of Sciences.
They aim to develop a quantum computer, with the initial goal of producing a prototype with computing power similar to a regular commercial computer within five years.
To achieve this goal, Alibaba will sponsor the laboratory in the next five years, and will recruit top scientists globally to work with those from the academy.
Pan Jianwei, a quantum scientist at the University of Science and Technology of China, who leads several quantum laboratories in Anhui and Shandong provinces and in Shanghai, will be director of the newly founded Chinese Academy of Science-Alibaba Quantum Computing Laboratory in Shanghai.
Although the prototype would have a calculation ability similar to that of an ordinary MacBook, its significance lies in the prospects that life-changing quantum computing would bring.
"It would be wrong to assume that a quantum computer is just 'better' than an Intel computer (for example). Quantum computing is something that will change the world completely," said Wang Jian, chief technology officer at Alibaba.
"Everything we have seen in a science fiction film, for example in Interstellar, will be possible only on the basis of quantum computing."
After the first five years of cooperation, Alibaba and the academy will review the achievement to decide on further investment for a 10-year plan - the goal of which is to improve the computing capacity to equal that of China's Tianhe-2 supercomputer, the world's fastest supercomputer. A 15-year target will also be reviewed.
Support needed
The quest to be higher, faster and stronger usually comes at a cost. In the case of quantum computing, the first five-year goal needs 150 million yuan, while the follow-up input is still difficult to estimate.
"No single national project will be able to support such a costly project over such a long period. That is why we need support from the private sector," Pan said.
Pan's team at the university has been conducting quantum research for more than a decade. However, the research is about to encounter problems without external funding, Pan said.
"Much scientific research stops when the academic paper is published. It fades from public view before being transferred into applied technology, which I call the 'death valley' of industrialization.
"The reason is that China lacks high-tech companies like IBM, Google and Microsoft, who are willing to invest in frontier technology. How are we supposed to compete with IBM if we can only afford 10 to 20 percent of the salary that IBM pays to a leading expert," he said.
In recent years, some world-leading international corporations have competed with each other to develop the first commercial-grade quantum computer, which remains an unfulfilled dream.
Microsoft formed a quantum research team in 2006. The company has also hired new recruits to work in its growing quantum hardware design group.
In May 2013, NASA and Google, in partnership with a consortium of universities, launched an initiative to investigate applying quantum technology to artificial intelligence.
Last year, IBM announced a plan to invest $3 billion in quantum computers and related research fields over five years.
However, critics have said that quantum computing research is a waste of money as it still a decades-long process.
Wang, from Alibaba, said: "Seven years ago, when we started to research cloud computing, it was impossible to tell how popular it would become today. What we knew was that cloud computing was a kind of technology that influenced the future development of our group, and that we need time to accumulate technology."
chengyingqi@chinadaily.com.cn