Ticket prices for tourist attractions should not rise too much or too quickly in case it stops people from visiting them, a senior tourism official has warned.
Admission fees at attractions in China have generally risen more rapidly than in other countries in recent years.
In the hope of slowing down the trend, the China National Development and Reform Commission announced in 2007 that attractions wouldn't be able to make ticket price adjustments for three years.
Since then, it has become routine for them to raise their prices every three years and this year marked another round of price hikes, which has led to worries among tourists.
Peng Decheng, director of the National Tourism Administration's planning and finance department, said they expect top-level tourism attractions to play a leading role in keeping prices stable.
"Ticket prices relate to tourists' interests as well as the sustainable and healthy development of the tourism industry," said Peng.
"The National Tourism Administration doesn't approve fast-rising prices because it is not good for boosting tourism consumption or the sustainable development of scenic spots."
The administration said it will work with other departments to reform the ticket price mechanism.
According to the tourism research center at the China Academy of Social Sciences, the average price of all 186 top-level scenic spots in China was 112 yuan ($17) by the end of 2014. Many tourists complained that the ticket prices of many attractions are already high and shouldn't be raised further.
"As a tourist, I wouldn't overreact if scenic spots were worth the price. But many of them cannot provide satisfactory services and I see no reason for the hike," said Zhang Yu, a civil servant from Nanjing, Jiangsu province.
Wei Xiao'an, China Tourism Leisure Association secretary-general, said it is understandable when tourist sites raise their prices amid inflation and the upgrading of facilities.
However, Wei said, sometimes tourist attractions just want to make a profit from unreasonably high prices.
More and more Chinese are visiting other countries now.
"They visit overseas scenic spots and find that Chinese scenic spots are way too expensive, so they are very displeased with the hike," said Wei.
Wei said the key issue was that Chinese scenic spots could not achieve the correct balance between being commercial operations while also protecting the public interest.
"The most expensive tourist spots around the world are theme parks. But tourists are willing to pay for them. Theme parks are all commercial operations and tourists found the service was worth the ticket price," said Wei. "The case in China is totally different."
"Many tourist attractions cannot be fully commercialized because of the public interest in them," added Wei. "However, local governments want to make a profit from them."
suzhou@chinadaily.com.cn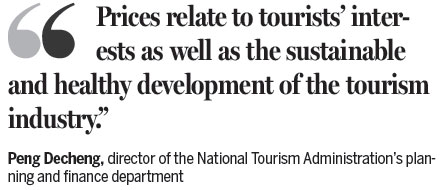 (China Daily 08/29/2015 page4)