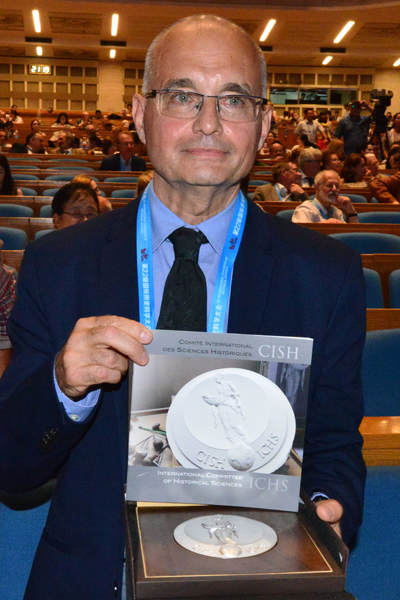 French historian Serge Gruzinski showcases the medal of International Prize of History. [Photo/Ju Chuanjiang] 
French historian Serge Gruzinski won the first International Prize of History on Wednesday for his pioneering work reflecting on questions of global history and transnational history.
He was presented with the medal of The Grand International Prize of History during the 22nd International Congress of Historical Sciences (ICHS) in Jinan, China.
"Serge Gruzinski´s publications tell us about the importance of understanding other cultures, religions and different types of behavior," Marjatta Hietala, president of ICHS, said at the prize awarding ceremony .
Gruzinski, who was born in 1949, is a specialist on the history of Latin America in the 16th, 17th and 18th centuries. He is an invited professor at Princeton University and a senior professor of the National Center of Scientific Research and School of Advanced Studies of Social Sciences.
ICHS created prize to honor a historian who has distinguished herself or himself in the field of history by her/his works, publications or teaching, and has significantly contributed to the development of historical knowledge.
There are no individual applications. The ICHS board, which has 12 members from different countries, selected Gruzinski from a pool of candidates.
zhaoruixue@chinadaily.com.cn