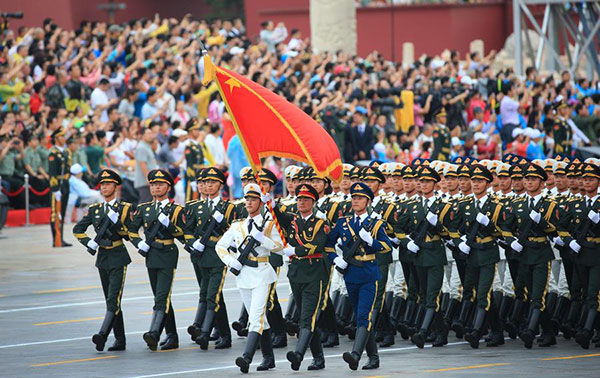 People's Liberation Army (PLA) Honor Guard takes part in the rehearsal for the Sept 3 military parade in commemoration of the 70th anniversary of the end of World War II at Beijing's Tian'anmen Square, Aug 23, 2015. [Photo/Xinhua]
30 designers work on new uniforms for PLA when they march in Sept 3 military parade
Officers and soldiers from the People's Liberation Army will wear newly designed uniforms when they march in the military parade in Beijing on Sept 3, PLA Parade Joint Command logistics officers said.
"The display of the new uniforms will definitely show the PLA's positive image and help present to the world a spectacular and unique parade," Zhang Jianshe, head of the logistics support team of the PLA Parade Joint Command, told People's Daily.
He said that more than 30 uniform designers from the PLA General Logistics Department had designed the apparel based on Chinese soldiers' clothing during the War of Resistance against Japanese Aggression (1937-45) and features of the Type-07 uniforms, which were delivered to service members around 2007.
The PLA Parade Joint Command asked the experts to design a badge that could reflect the theme of the parade, he said, as well as arm badges which would identify each parade formation.
"The new badges are an excellent reminder of each formation's characteristics and glorious history," Zhang said.
Compared with the Type-07 uniforms, the new outfits have a better shape, are more decorative and are better suited to a variety of environmental conditions, the People's Daily report quoted designers as saying.
Accessories such as knapsacks have also been newly designed, and are now lighter and easier to carry.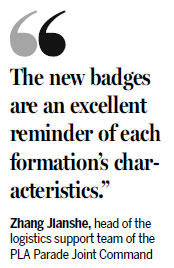 Ma Guowang said the PLA medical personnel formation, which he leads, is composed of female service members who usually care a great deal about their uniforms.
"Many female service members had to re-tailor their uniforms ahead of previous parades because they became thinner through months of stringent training," he recalled.
"Now all their concerns have disappeared because each of the new uniforms was tailor-made with tightfitting designs. The designers also added fashion elements to the female soldiers' garments."
A PLA uniform expert who declined to be named told China Daily that the new uniforms were designed by the PLA General Logistics Department's military logistics equipment institute and are probably the most exquisite apparel the Chinese military has ever used.
"The designers used a lot of new materials and innovation with these uniforms. It is fair to say that the uniform will be a major source of pride for the service members appearing in the parade," he said.
According to the website of Xinxing Cathay International Group's 3534 Clothing Co Ltd, one of the major garment contractors of the PLA, the Shanxi province company received orders for the new uniforms in mid-July from the PLA General Logistics Department and spent about two weeks on their production.
The orders covered 20 types of uniforms and caps, it noted.
zhaolei@chinadaily.com.cn