China's island reclamation is legal, reasonable and promotes the 'public good', experts say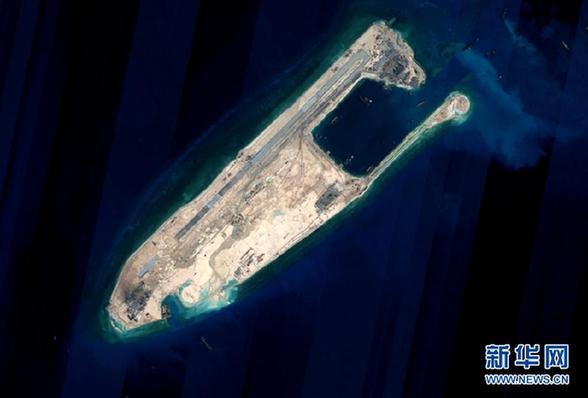 This satellite image released on Wednesday shows the Fiery Cross Reef where the reclamation project has been completed. [Photo/Xinhua]
Experts said on Monday that China's island reclamation in the South China Sea is well-founded, and the United States has adopted double standards on the issue.
The comments came in response to a US report on maritime security in the Asia-Pacific region that pointed fingers at China.
Ruan Zongze, vice-president of the China Institute of International Studies, said the building of facilities in the South China Sea is legal and reasonable, and it matches China's responsibility and obligations in international affairs.
"The US has adopted double standards when it comes to the Nansha Islands in the South China Sea," he said.
The US Department of Defense released a comprehensive strategy for maritime security in the Asia-Pacific region on Friday, including detailed descriptions of land reclamation in the South China Sea.
David Shear, US assistant secretary of defense for Asian and Pacific security affairs, said at a news conference on Friday that China's expansion of land reclamation is one notable recent development in the area, but he admitted that China is not the only claimant to have conducted reclamation, and that land reclamation in the area is not new.
The Pentagon and China's Ministry of National Defense are working to conclude an agreement on air-to-air encounters by the end of the year, Shear said.
Ni Feng, an expert on US studies at the Chinese Academy of Social Sciences, said China's land reclamation is well-founded, and many of the facilities being built are for civilian use.
Ni said the US has neglected the fact that these facilities can greatly improve shipping safety in the area.
"China is building facilities mainly for the public good," Ni said. The work includes lighthouse facilities, a meteorological observatory station and a maritime scientific research center, as well as search and rescue facilities for maritime emergencies, and medical and first aid facilities.
The construction of two lighthouses on Huayang Reef and Chigua Reef will help ensure shipping safety in the South China Sea, an area with many dangerous reefs, he said.
"The lives and property of fishermen are at risk because of the tough environment in the area. In addition, China will be able to provide more precise data on meteorological observation and sea measurement after the construction is completed," he said.
The data, he said, are much needed at sea, and China is considering collaborating with other countries in maritime search, as well as opening up part of the facilities to international users.
China announced that it had completed land reclamation at the end of June.