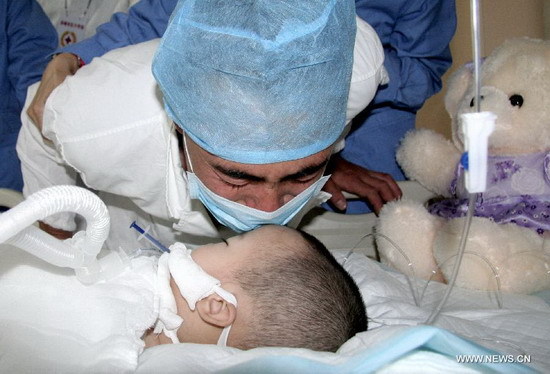 Feng Lei, gives her daughter Feng Junxi a final kiss at a hospital in Beijing, capital of China, June 9, 2012. A couple from Chifeng in north China's Inner Mongolia autonomous region decided to donate their daughter Feng Junxi's body organs after her death.[Photo/Xinhua]
China published its first national guideline on organ donation on Saturday to better regulate the process and further raise public awareness.
The guideline will be handed to all the country's coordinators to help them explain the principles and policies to relatives of dead patients and to receive their approval for organ donations.
It expounds on the ethics involved, the standards by which to judge death and the standards covering the extraction and distribution of organs.
The guideline was announced on the sidelines of a conference held by a national alliance of organ procurement organizations in Guangzhou, the capital of Guangdong province.
As of Aug 19, China had recorded 4,737 organ donors since 2010, with 12,748 large organs acquired. It continues to be Asia's top nation in the number of organ donations.
The country began a voluntary organ donation trial in 2010 and promoted the practice nationwide in 2013. On Jan 1 this year, China banned the use of executed prisoners' organs for transplants, making donations by citizens the only legitimate source.
This year, 1,590 donors had given 4,414 major organs as of Aug 19, close to the total for all of last year, showing a heightened public awareness and understanding of such donations.
However, China still faces a severe shortage of organs for transplants. About 300,000 patients need transplants annually, but only about 10,000 operations are performed, according to the National Health and Family Planning Commission.
There is also a shortage of qualified hospitals and surgeons to perform transplants, and the cost of the operations is high.
Only 169 hospitals nationwide are qualified to carry out organ transplants, compared with more than 300 in the United States, according to Huang Jiefu, head of China's Human Organ Donation and Transplant Committee.
Huang, a leading liver transplant surgeon, said fewer than 100 surgeons in China are able to perform liver transplants, while several thousand can do so in the US.
China's organ transplant experts used to be unwelcome globally when the country used executed prisoners' organs for transplants, according to Huang.
The experts dared not talk about the source of organs. They were not accepted by international guilds and their papers were not allowed to be published outside the country either.
"Now we have an open and transparent system for organ donations ... so we can speed up cultivating professional surgeons," Huang said at the Guangzhou event.
Huang said only 30,000 patients can afford the operation fees and are on hospital waiting lists for organ transplants-a 10th of the total number of those who need transplants.
He and Chen Zhu, vice-chairman of the Standing Committee of the National People's Congress and president of the Red Cross Society of China, will raise proposals to include organ transplants in the serious illness insurance program at next year's "two sessions" legislative meetings.