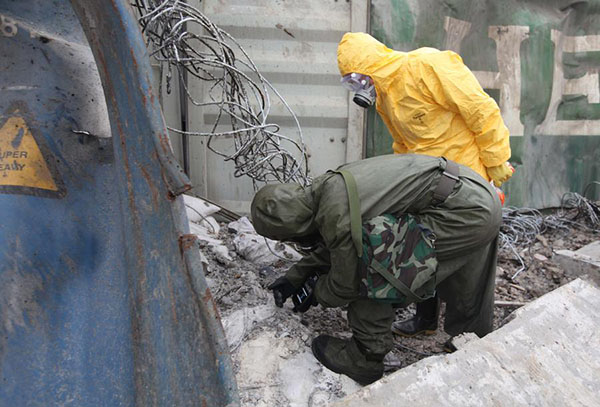 Rescuers clear the blast zone in Tianjin after massive explosions at a warehouse last week killed more than 110 people in the North China port city, Aug 19, 2015. [Photo/Xinhua]
Large quantities of dead fish have been spotted near the blast zone in Tianjin by environmental investigators, raising speculation that hazardous chemicals from the blast have led to their deaths, although experts still have yet to determine the cause.
Several pictures showing large quantities of dead fish in the offshore area of Tianjin have gone viral online. Some residents are concerned that hazardous chemicals from the blast have contaminated the sea.
Many reasons may have led to the situation, and the experts have gone to the site for further research on the dead fish and the fisheries bureau and water quality authority will release the results as soon as possible, said Deng Xiaowen, head of environment monitoring of Tianjin Environmental Protection at the press conference on Thursday afternoon.
Deng said he did not currently know the exact locations of the dead fish.
The offshore area closer to the blast zone, inside the Haihe River Dam, has been subject to regular monitoring, he said. If the dead fish appeared in the part further from the blast zone, they will set up new monitoring stations.
The five monitoring stations on that part of the offshore sea water showed no abnormalities on Wednesday, Deng said.
They have detected some cyanide compounds in the water, but they are in the normal range compared to the average level in past years, he added.
In summers, it"s not rare to see large quantities of dead fish offshore, because the pollution on the land may flowinto the river and sea after rainfall, which may cause eutrophication and suffocate the fish, Deng said.
Tian Weiyong, director of the environmental emergency center under the Ministry of Environmental Protection also said the monitoring station data cannot be false, since more than 90 monitoring experts from the country have supported Tianjin, doing the supervision together.
Tian added that the 16 water quality monitoring stations within the core zone of the blast have detected sodium cyanide, of which eight have seen the concentration of this toxic chemical exceeding the national standards.
"Among the eight stations with excessive sodium cyanide, the largest concentration has been 356 times of the national standards," he said.