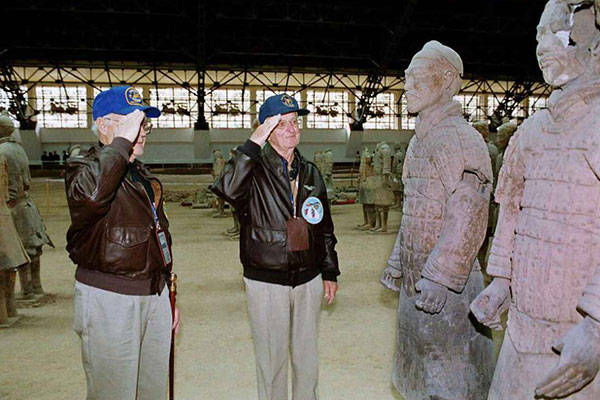 Paul Krof (left) and Mark Mcdonnell, the two Flying Tigers' pilots.
Whenever Chinese people celebrated Anti-Japanese War victory in August, Zhang Tianzhu would recall his encounter with two pilots of Flying Tigers and hoped to meet them again.
Zhang, archaeologist with Emperor Qinshihuang's Mausoleum Site Museum in Lintong district, in Xi'an, the capital of Shaanxi province, met the old American soldiers 10 years ago.
"I was told by a friend of mine that a 60-member tourism group from the United State would visit our museum and there were two pilots of Flying Tigers in the group. I have been told the story of Flying Tigers since my teenage and was eager to meet the US fighter pilots who fought against Japanese warplanes in China during World War II," Zhang said.
The archaeologist went to the gate of the museum with his camera to welcome the pilots and asked them to go down into the pit where he and his colleagues were excavating the terra-cotta warriors and horses made in the Qin Dynasty (221-207 BC), first unified feudal dynasty in Chinese history.
"It was March 23, 2005. I will never forget the date when I met the heroes I have revered for a long time. Risking their lives, the pilots of Flying Tigers came to China to fight against Japanese invaders and I wanted to show my respect to them," Zhang said.
In the pit, Paul Krof and Mark Mcdonnell, the two pilots of Flying Tigers wearing the flight suit they wore during the war, went near to the unearthed and repaired pottery warriors made more than 2,000 years ago and looked at the statues carefully.
"They gave the salute to the ancient statues and I took the photos," Zhang said.
"It was so great and so amazing that ancient Chinese could made such vivid statues," Krof said.
"I am so proud to have a chance to stand with the great ancient warriors. I came to Lingtong in 1944 with my team for rest and reorganization, but these warriors were not discovered then," Mcdonnell said.
Zhang introduced the excavation and story of Qin Dynasty to the heroes and took many pictures of them. One of the pictures was published in a local newspaper and others were collected by Zhang.
"I want to show more photos of the Flying Tigers pilots now and hope to meet them again. I hope our people to remember the heroes who helped us to fight against Japanese invaders, and hope the world will be peaceful forever," Zhang said.