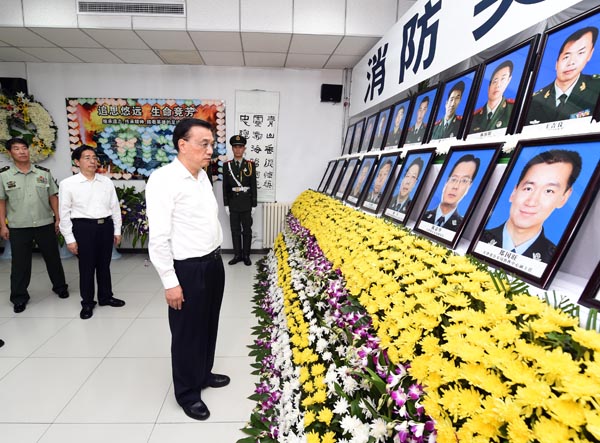 Chinese Premier Li Keqiang pays his respects to firefighters and policemen killed in the Tianjin warehouse blasts on Sunday afternoon. [Photo/China News Service]
Chinese Premier Li Keqiang arrived at the site of Tianjin blasts on Sunday afternoon.
He visited fire fighters, rescuers and those injured in the calamity.
The premier also directed further rescue operations and treatment of the injured, as well as handling of the aftermath and production safety.
When visiting the blast site, Li emphasized that continuous and precise monitoring of the local environment, including air, water and soil, should be conducted.
The information should be publicized in a timely manner without any omissions. If authoritative information is slow being released rumors will spread widely, he said.
Li is representing the Communist Party of China (CPC) Central Committee, the State Council and Xi Jinping, general secretary of the CPC Central Committee.
Ten more bodies were found on Saturday night, pushing the death toll from the massive warehouse blasts in North China's Tianjin city to 112 by 9 am on Sunday.
Of the bodies, 24 have been identified and 88 others will need DNA testing.
Another 95 people remain missing, including 85 firefighters.
Searches for life signs at the blast zone are continuing.