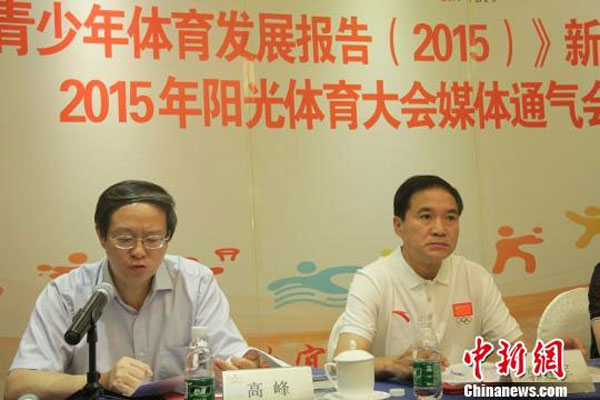 A new report regarding the physical fitness of Chinese youth is released to the public during a press conference in Yichang, China's Hubei Province on Aug 15, 2015. [Photo/Chinanews.com]
A new report concerning the condition and development of Chinese youth in physical activities shows that the physical conditions of university students are getting worse, comparing with secondary school students, Chinanews.com reported on August 15, 2015.
In physical exams conducted among these students, university students' physical endurance has dropped steadily, while it has increased among secondary school students.
Feng Lianshi, deputy director of the China Institute of Sport Science, said, since China has implemented a policy to improve the physical fitness of its youth in 2007, secondary school students are getting better, with an increased performance in various sports activities; yet university students haven't shown much improvement, comparatively.
To improve university students' physical fitness, Guo Jianjun, one of the report's writers, advocates for holding national youth sports events, engaging students in sports and organizing volunteers to coach students.