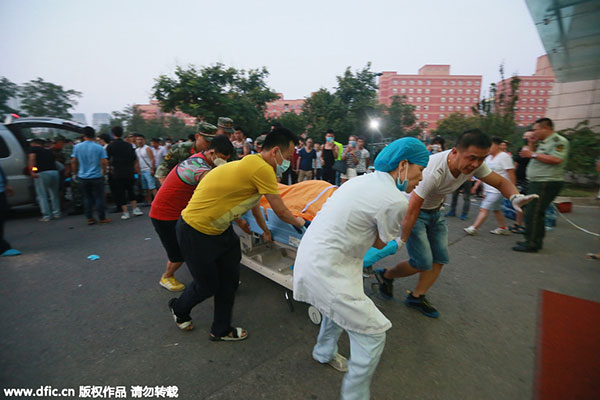 Medics and volunteers help transfer a stretcher inside TEDA hospital in Tianjin Thursday. [Photo/IC]
In the wake of the Tianjin blasts that shook the port city Wednesday night, the hospitals tending to the injured witnessed many emotionally devastating scenes, as relatives grappled with their loved ones' fates, whether they were dead or missing.
A woman said her son was blown away by the blast waves when he ran out of the dormitory as soon as he heard the explosion.
Her son's legs were hurt badly. "He couldn't continue running and something big hit him right in his head," the woman said.
She was watching her son's vitals fading on the way to the hospital with her husband. She fell unconscious when she heard the confirmation of her son's death in the hospital.
Now she doesn't know where her son's body is.
"Are you heading to the emergency room or morgue?" a hospital staff asked her. She didn't answer and tried very hard to walk with two staff's support to the end of the hallway in the hospital.
A hearse pulled over outside the other exit of the hallway.
She is not alone in her despair.
A woman, who only revealed her last name Bian, held her brother's cell phone tightly. He had gone missing after the catastrophic blast.
Bian and another five family members rushed to Tianjin to look for her brother since she couldn't reach him by phone. Her brother worked where the blast happened.
They failed to find him in any of the three hospitals treating the injured but came across the brother's co-workers.
The co-workers left Bian her brother's cell phone in the morning.