Top watchdog agency vows to target officials who hinder its investigations
China's top graft-buster has taken more measures to discipline Party officials as the nationwide campaign against corruption gathers steam.
Party officials have been deterred from impeding investigations by anti-graft authorities, according to the Central Commission for Discipline Inspection of the Communist Party of China.
A report on the website of People's Daily, the Party's flagship newspaper, cited an official in charge of disciplinary investigations at the commission saying that officials will be expelled from the Party if they are found to have hindered investigations.
"Every suspect involved in an investigation will be given a Party Constitution booklet and required to behave and honor Party members' obligations as the document stipulates," said the official, who did not want to be identified.
According to provisions in the document, Party officials found to have hindered investigations, such as by asking accomplices to commit perjury or store illicit gains, will face stiffer penalties.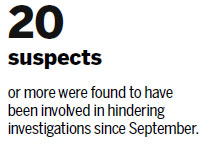 Li Guifang, a partner at the Deheng law firm in Beijing, said that when Party officials are prosecuted on corruption charges, if they are found to have impeded investigations, this makes a difference in sentencing.
"The current Criminal Law grants judges discretion in regard to whether suspects have cooperated with prosecutors' investigations," Li said.
To determine whether suspects have impeded investigations is significant in some cases because the suspects may ask accomplices to make false statements in court.
"When anti-graft authorities find an official who has taken bribes, he or she may ask the briber to make a statement that the money was a loan or was disguised under other names," Li said, adding that in such cases the official should be regarded as instigating others to perjure themselves and hinder investigations.
More than 20 Party officials were found to have been involved in such misbehavior since September.
Accusations about impeding investigations have not been contained in previous announcements from anti-graft authorities.
zhang_yi@chinadaily.com.cn