Ministry says unsafe equipment is common cause, and it calls for better monitoring
China has seen a steady decline in environmental emergencies since 2011, even though they are still frequent, the national watchdog said on Wednesday.
In the first six months of this year, the Ministry of Environmental Protection dealt with 45 emergencies nationwide, of which one was a major event, according to the ministry's statement.
The number was 18 fewer compared to the same period last year, the ministry said.
The major event occurred on May 16 when a sulfur dioxide leak in the workshop at Ruixing Chemical Co in Yangcheng county, Shanxi province, killed eight workers and injured another two.
The overall number of emergencies has declined gradually since 2011. Then, there were 212 emergencies that affected the environment, a number that dropped to 98 in 2014, the ministry's statement said.
However, emergencies related to gas and oil pipelines have increased. Since 2010, the ministry has dealt with 23 such events.
In the first half of this year, there were 10 oil pipeline leaks in Shaanxi province alone, where many major pipelines connect the oil-rich western region and the eastern markets.
The ministry has warned the provincial government to make more effort to prevent such leaks, and prepare for the emergencies caused by them.
Forty-two percent of emergencies this year were caused by unsafe production facilities or processes, the ministry said.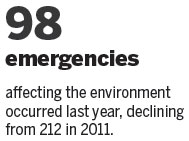 "The majority of domestic enterprises have not invested enough in their facilities and technology to make their processes safe, especially in how they test and monitor their sites, a major reason for the increased emergencies in the oil pipelines," said an environmental policy researcher who spoke to China Daily anonymously.
The researcher said he has noticed the demand for testing and monitoring equipment is growing and companies are paying more attention to emergency procedures. This, he said, has been the result of increasing attention by the government on the issue of environmental protection.
The ministry released its statement to help persuade companies to build efficient and effective systems to prevent emergencies, and to improve how they are managed when they do occur.
Environmental emergencies are classified into four levels depending on the extent of human and animal deaths and injuries, the seriousness of the pollution, the economic loss and the size of area affected by the emergency.
China will build a comprehensive environmental monitoring system by 2020, which will collect data from monitoring stations and satellites covering the land, sea and air, according to a network construction plan released by the State Council on Wednesday.
zhengjinran@chinadaily.com.cn