Foxconn confirmed on Wednesday that two of its plant employees died last week in Zhengzhou, Henan province.
Liu Kun, a company spokesman, said in a statement to China Daily that one of the two, found on Tuesday, is likely to have committed suicide, while the other died of illness on Friday night, just two days after she was recruited.
Foxconn, the world's largest electronics contract manufacturer, is a major supplier of components to companies such as Apple and HP. It has more than a million employees on the Chinese mainland.
The company has been involved in heated controversies in past years over a series of suicides by its employees on the Chinese mainland.
The first victim last week, a man, was found dead near a plant building in Zhengzhou at 3:18 am on Tuesday, the statement said. It said police suspect he committed suicide by leaping from the top of the building after a quarrel with his wife, based on calls logged on his mobile phone.
The other employee, a woman, fainted and fell down about 8 pm on Friday, also in Zhengzhou, and died later in a hospital, possibly because of a heart attack, the statement said.
The statement said the woman was 22 and had joined Foxconn just two days earlier. She had not assumed her post yet.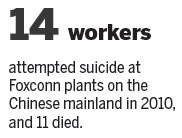 Foxconn said in the statement that the company has taken many measures to provide psychological aid in recent years, including employing professional psychologists and setting up a 24-hour hotline for counseling. It has also organized lectures on psychological health, including sleep management and how to handle pressure, it said.
Before the latest two deaths, Foxconn had been hit by a series of suicide attempts by employees. The worst wave occurred in 2010, when at least 14 workers attempted suicide consecutively and 11 people died.
Labor rights activists blamed the suicide attempts on factors such as pressure on employees caused by sustained overtime work and lack of psychological care from the company.
Considering the huge employment, the suicide rate at the company is not higher than the average rate for China as a whole, according to some experts.
Contact the writers at wangxiaodong@chinadaily.com.cn