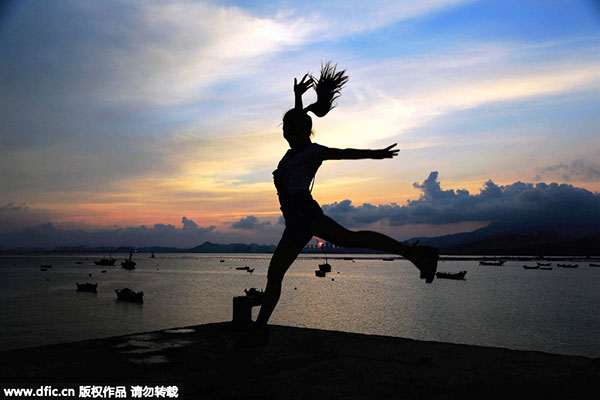 A tourist jumps as sun sets in the background in Qingdao, Shandong province, August 10, 2015. [Photo/IC]
Employees should be given more flexibility in summer to take half-day vacations on Fridays, giving them extra time for weekend travel and boosting the tourism industry, the State Council suggested.
"These measures can help employees use their vacation time to travel more flexibly and avoid the peak traveling season, which would greatly ease the pressure on the transportation, tourism, commercial and catering sectors," said Wu Wenxue, deputy head of the China National Tourism Administration. "It could also tap the full potential of tourism consumption."
The lack of paid holidays has been blamed for overcrowding in many scenic spots during public holidays.
Zhang Ying from Wuxi, Jiangsu province, said she is excited about the news but worried about the implementation. "We cannot take annual leave in the first five years of work, not to mention more holidays," said Zhang, 29.
Zheng Dongliang, director of the Work Science Research Institute, a research branch of the Ministry of Human Resources and Social Security, said it is more practical to gradually promote the system in certain regions rather than in the whole country.
"Currently, many employers cannot follow the regulations for eight-hour workdays and two-day weekends for their employees, not to mention another half-day holiday every week," said Zheng. "Many enterprises are struggling during the ongoing economic transformation. Increasing holidays means more labor costs for businesses."
"For certain companies, more paid holidays can play a positive role to attract talent or motivate employees, but it is unrealistic to implement the system on a very large scale."
Xi Jianchao, associate research fellow of tourism at the Institute of Geographic Sciences and Natural Resources Research at the Chinese Academy of Sciences, said two and a half days off every week could promote leisure tourism around cities.
"Two and a half days is not enough for a long journey. However, it does attract people to visit neighboring areas, such as people from Shanghai going to Jiangsu province and Zhejiang province, or Beijing residents to Hebei province or Shandong province," said Xi.
Related: Paid leave a legal right, but shouldn't be forced
BEIJING  - The right to paid leave should be legally protected, according to the Labor Law of 1995, but so should the right to forgo paid leave. Some employers, especially government institutions, and local regulations have forced workers to take paid leave, without regard for workers' choice and individual circumstances.
State Council Regulations of Paid Annual Leave of Employees, which took effect in January 2008, stipulated that employees can opt out of their paid leave, and that employers must pay workers three times their daily salary for their unfulfilled vacation.
Chinese authorities have promoted paid leave in recent years as part of the country's plan for economic restructuring, promoting consumption and developing the service industry. They hope the time off will give people a chance to shop and spend on travel and leisure.
However, according to a nationwide survey conducted by the Ministry of Human Resources and Social Security, around 50 percent of Chinese employees choose not to take paid leave due to concerns that taking vacation might give their bosses the impression they are lazy and influence future job promotions.
In other jobs, such as sales, employees forgo paid leave to avoid smaller bonuses as only basic salary is given during leave, a violation of the 2008 regulation, but common in many sectors.
To "guarantee workers' recreational rights," provincial governments across China have adopted regulations allowing employees to "flexibly arrange their vacations," and campaigns have been launched to investigate enforcement of the regulations.
Some local measures have been excessive by "forcing" employees to take paid leave, while others have run afoul of the law by abolishing the additional pay owed to those who give up their vacations.
Paid leave has also been linked to the annual work assessment of employees and departments.
Although government employers are demonstrating their resolve to implement the law through forced paid leave, it is unrealistic to impose these policies uniformly and without flexibility in all workplaces.
Despite the good intentions of advocating rest, local regulations that put those who forgo paid leave at a disadvantage for model worker titles, promotions, and other perks are inappropriate.
Enforcing paid leave in a one-size-fits-all manner should be discouraged, as China has not reached universal coverage for paid leave benefits.
Forced labor, forced extension of work hours, withholding back pay and refusal to buy insurance for workers are lasting problems in some parts of China and violations of basic labor rights.
For these workers, paid leave is a luxury. They should not be further disadvantaged by local measures that penalize them for not taking leave.
More caution should be adopted to introduce paid leave, instead of a drastic, sweeping imposition.