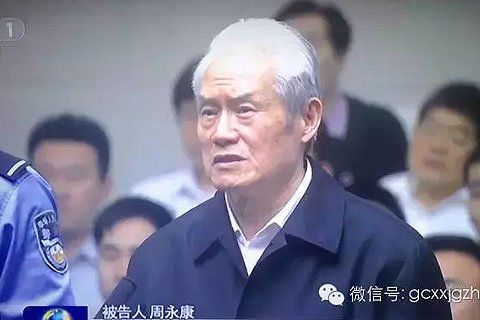 File photo of Zhou Yongkang.
China's official Communist Party of China (CPC) newspaper People's Daily published a signed commentary and criticized retired officials who continue to exert their influence in government departments on Monday.
The commentary did not specify which former leaders were continuing to wield influence after retirement.
In February 1982, the CPC Central Committee officially abolished the de facto life tenure for government officials, including Chinese presidents and county Party secretaries, Xiakedao, the official WeChat account of the People's Daily Overseas Edition, said Monday night.
Xiakedao also said former leaders Deng Xiaoping and Chen Yun were vehement supporters of the establishment of the retirement system.
Some retired officials were using their influence with former subordinates to keep their hands on major issues long after they had retired, the commentary said.
When decisions were made against their wishes, they would accuse incumbent officials of being snobbish, the article said, adding that such lingering influence put their successors in an awkward position and weakened party cohesion.
The People's Daily commentary was published days after a magazine under Xinhua News Agency claimed that Party leaders were in Beidaihe resort mainly to visit experts and model workers on holiday there. It said many policy issues had been settled prior to the gathering and no policy meetings would be held in Beidaihe this year.
Beijing News Tuesday cited examples of former leaders who stopped intervening in politics after retirement such as Wan Li, Tian Jiyun, Zhu Rongji and Hu Jintao.
The newspaper also gave a list of fallen leaders who did badly in this aspect. It said the most typical example was "Tiger Zhou", in apparent reference to Zhou Yongkang. It said during his 32 years working in the petroleum system, Zhou installed Jiang Jiemin to create conditions for him to exert influence in the future. And Zhou also installed Li Chuncheng in Sichuan who later helped Zhou gain inappropriate benefits.
The newspaper also mentioned other corrupt officials such as the first fallen "tiger" in Zhejiang province, Si Xinliang, a former senior political adviser of Zhejiang province; Yang Baohua, a former senior political adviser of Hunan province; as well as Tian Xueren, former deputy governor of Jilin province.