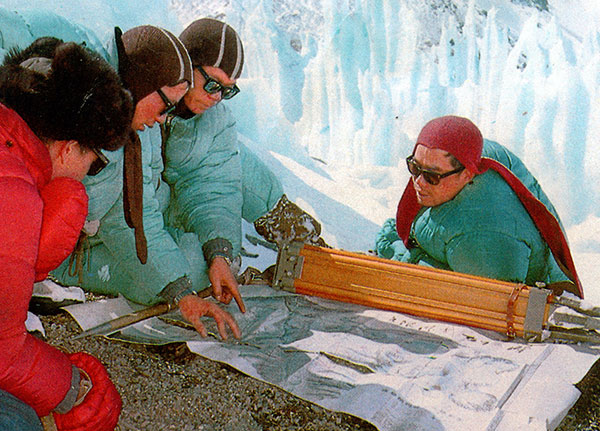 Shao Shikun (right), an engineer in the First Geodetic Surveying Brigade of the National Administration of Surveying, Mapping and Geo-information, works with colleagues to determine the height of the world's highest mountain, Qomolangma, also known as Mount Everest, in May 1975. Provided to China Daily
He worked in harsh conditions that included extremely low temperatures and food shortages
Shao Shikun, 80, a surveyor assigned 40 years ago to help determine the height of Qomolangma, the world's highest mountain, saw many colleagues die during the arduous work.
Despite these harrowing incidents, he never wavered in his belief in the work's importance, saying, "Having experienced unimaginable hardship, I am so proud of this job."
A member of the first generation of China's surveyors, Shao took part in major national surveying and mapping projects.
These included Qomolangma, also known as Mount Everest in the West, in 1975 and Tuomuer Peak in the Xinjiang Uygur autonomous region in 1977.
Graduating from the Information Engineering University of the People's Liberation Army in 1954, Shao joined the National Administration of Surveying, Mapping and Geo-information, becoming an engineer in its First Geodetic Surveying Brigade.
"I'm not afraid of death. When we were working outside for field surveying, there were many harsh conditions such as extremely low temperatures, shortages of food or water, and even gangsters.
"However, it's our responsibility to survey the country and provide accurate data and information. It's most important to finish the task," he said.
In the summer of 1959, just five years after starting the job, he went to Xinjiang with three colleagues for a field survey.
During this work, one of the team members died as they were crawling through a valley.
Shao could not keep back his tears when he recalled the incident more than 50 years later. "Each time we told each other to be careful, we knew it could be the last we spoke together," he said.
In 1975, Shao was assigned to the Qomolangma survey with seven colleagues. Fighting altitude sickness and low temperatures, they worked for more than 10 hours a day for 80 successive days.
On July 23 that year, the Chinese government announced the height of Qomolangma as 8,848.13 meters, a figure which was later acknowledged by the United Nations Educational, Scientific and Cultural Organization.
Shao and the other team members wrote a letter about their work to President Xi Jinping in May and received a reply from him on July 1.
Shao's son, Shao Zewen, 53, now works as a driver in the same brigade as his father did. "My son drives to remote areas for field survey, which can be dangerous, but he has inherited my boldness," Shao said.
Shao's apprentice, Wang Xinguang, 59, said he can never forget Shao's comments about the job, adding that the best teachers cultivate the best students. Wang was picked to be a team member for a Qomolangma survey in 2005 and completed the task with 70 colleagues.
Song Chaozhi, a spokesman for the administration, said geodetic surveys depend on footwork and there are no shortcuts to be taken.
There have been 46 deaths of team members caused by extremely tough conditions in past years, including drought, lightning strikes and flooding, Song said.
"This job means sacrifice," he said.
Liu Zhanke, 34, director of the brigade's Technology Research and Development Department, said the new generation of mapping technicians has not experienced such a hard life as their predecessors.
The current team devotes its energy to researching new technology and equipment.
"The brigade has imported high-technology equipment, requiring us to continue learning and make the best use of it. Working conditions are better than in previous years, and we will make great efforts on technology innovation and stay loyal to the job," Liu said.
dujuan@chinadaily.com.cn