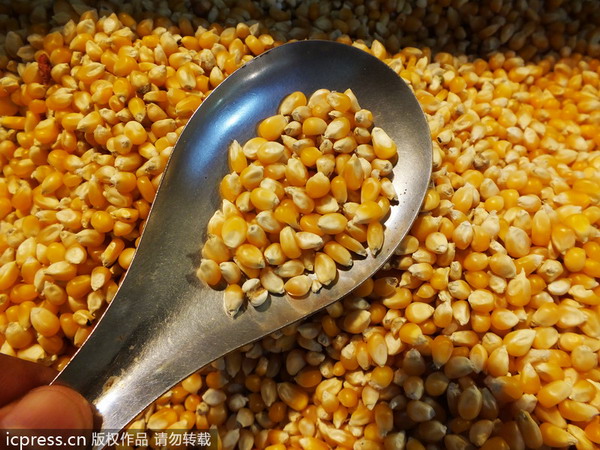 Genetically modified corn grains. [Photo / IC]
International agribusiness companies have intensified their efforts to ease public fears over genetically modified products in China, taking to social media platforms to popularize GM science and interact with the public.
Croplife International, the trade association representing a number of international biotechnology companies, launched its own Sina Weibo and Tencent WeChat public messaging accounts on Friday to engage the public about genetically modified food products amid intense debate about their safety.
The association said in a statement that it is responding to calls by the central government to increase the popularization of GM science and to enhance the knowledge about GM foods.
Croplife China, a division of the organization in China, represents 13 international agricultural businesses in China, a majority of which are involved with genetically engineered seeds and the associated insecticides and herbicides.
Sun Li, a public affairs manager with the organization, said it is aiming to increase its social media presence to respond to public concern over the safety of GM food products.
According to the first policy document issued this year by the Communist Party of China Central Committee, which usually signifies the country's top priority, China will increase research and safety management of genetically modified food and promote the popularity of GM food science.
Chen Xiwen, deputy director of the Central Rural Work Leading Group, said at a news conference earlier this year that it is important to change public misconceptions about GM products.
Some GM food is not being marketed because of the public's disapproval, he said.
Some international agribusiness companies have not been allowed to conduct their business in China, since the country has so far only allowed the marketing of domestic GM papaya and cotton.
Gao Yong, director of Asia Corporate Affairs at Monsanto Co, said previously that the company was mostly focused on the research and development of new products, and that interaction with consumers will be a new priority in the near future.
"We have seen that the government has made their voices heard and the scientists as well (over the safety of GM foods). We the enterprises need to play a part in this process," he said.
The company also launched public accounts on WeChat and Weibo in March to spread knowledge about GM science and respond to public concerns over the safety of its products.
Huang Dafang, a researcher with the Biotechnology Research Institute at the Chinese Academy of Agricultural Sciences, said it could take a long time to eliminate public fears over the safety of GM food products.
"Many would rather believe the rumors because they have no channels to the right knowledge. Thus we need to make the science easily accessible to them," he said.