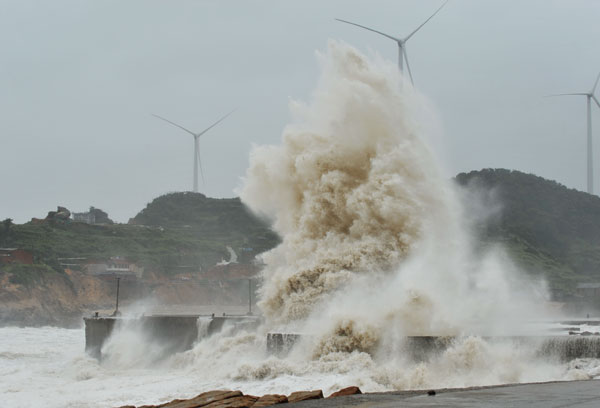 Typhoon Soudelor lands on Southeast China's Fujian province 10 pm August 8, 2015.  [Photo/Xinhua]
FUZHOU - Southeast Chinese province Fujian evacuated more than 160,000 people and 32,000 fishing boats in a bid to reduce damage to a minimum as typhoon Soudelor landed on the Chinese mainland Saturday night with strong gales and heavy rains.
After landing on Taiwan earlier Saturday and leaving at least six people dead, four missing and 102 injured, typhoon Soudelor hit Putian City in Fujian at 10:10 p.m. Saturday and is expected to storm through the province.
As of 1 p.m. Saturday, 163,200 people were evacuated onshore and 32,175 fishing vessels anchored at ports in the province.
Marine police in Fujian also saved 12 people from a Taiwan fishing vessel that lost power in the waters near the province on Saturday morning.
Precipitation in the provincial capital Fuzhou reached historical high on Saturday, with much of the downtown waterlogged.
More than 10,000 trees were toppled and traffic stalled on flooded streets. Slanted tree trunks and toppled branches were seen along major roads in downtown Fuzhou.
Heavy rains are still expected through Sunday morning in the northern part of Fujian, with precipitation reaching 350 mm through Monday.