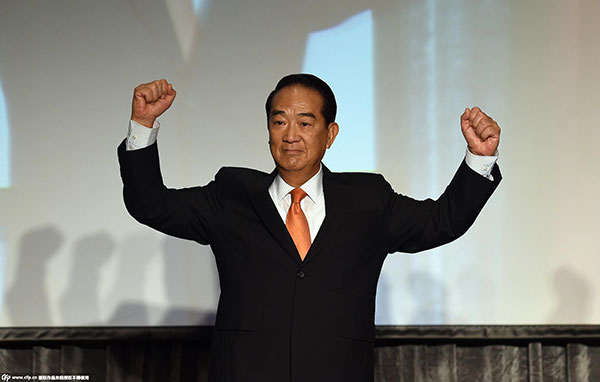 James Soong, Chairman of the People First Part (PFP), gestures during a press conference in Taipei on August 6, 2015. [Photo/CFP]
Taiwan's People First Party Chairman James Soong Chuyu said on Thursday that he will run for the Taiwan leadership.
The Democratic Progressive Party Chairwoman Tsai Ingwen, Hung Hsiu-chu of the ruling Kuomintang Party, former DPP chairman Shih Ming-teh and former DPP member and legislator Hsu Jung-shu had announced earlier they would run for the leadership in the election on Jan 16 next year.
Reading from a statement, Soong promised to "build a framework for sustainable and peaceful development across the Taiwan Straits".He said a peaceful and stable relationship between Taiwan and the mainland conforms to the common interests of both sides, the Asia-Pacific region and the world.

People living on both sides of the Straits should deepen communication and enhance mutual trust, Soong added.
He was born on the mainland in Hunan province in 1942 and went to Taiwan with his parents in 1949. In 1999, he gave up his KMT membership and ran in an unsuccessful bid in 2000 as an independent. He later founded the PFP and has since served as the party chairman.
In the 2004 election, Soong was the running mate of then-KMT chairman Lien Chan, but they lost the election. Soong lost again in the 2012 election.