China faces a serious threat of deteriorating land and the extinction of rare animals and plants, though it has formed a basic network of protection zones, the national environmental protection authority said.
Ninety percent of the grassland in China has seen varying degrees of degradation or desertification, and 40 percent of the major wetlands are facing the threat of degradation, the Ministry of Environmental Protection said on Thursday.
In addition, 10.9 percent of higher plants and 21.2 percent of vertebrates face serious challenges in fighting off extinction, and some rare animals have failed to get effective protection, according to research from the ministry and the Chinese Academy of Sciences.
Chen Jining, minister of environmental protection, urged the environmental authority to strengthen protection with clearer mechanisms and processes, and to conduct large projects to protect diversity.
China has already taken a series of measures to protect biodiversity, though it still faces threats, the ministry said.
"We have formed a basic network to protect biological diversity with natural reserves as the core," Chen said.
Since 1956, when the first natural reserves were built, China has established 2,729 natural reserves including forest, wetland and geological parks. Of those, reserves related to forest ecosystem account for more than 1,400.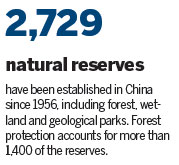 Protection zones on land cover 1.7 million square kilometers, representing around 18 percent of the country's area. Eighty-five percent of wild animals and plants are under protection.
However, the ministry said it has heard concerns from many experts on the management of nature reserves who say that the protection is not sufficient and the reserves put their sole focus on protecting animals and plants.
The ministry agreed with experts that it is more important to conduct research and make the reserves into bases of scientific research and education centers to encourage public participation.
The ministry has inspected almost all the natural reserves and is preparing an evaluation.
In addition, the departments of environmental protection and forestry and other authorities have released guidelines to strengthen management and reduce construction inside the reserves.
zhengjinran@chinadaily.com.cn